Lauren Bacall, the sultry, husky-voiced Hollywood actress famous for such films as The Big Sleep, has died at the age of 89.
A star of Hollywood's golden age, Bacall appeared in a string of films alongside her husband Humphrey Bogart.
"With deep sorrow, yet with great gratitude for her amazing life, we confirm the passing of Lauren Bacall," the Bogart estate confirmed in a brief statement on Twitter.
Born Betty Joan Perske in 1924 in the Bronx, New York, Bacall was the only child of Natalie Weinstein-Bacal, who emigrated from Romania, and William Perske. She took the Romanian form of her mother's last name when her parents divorced.
Bacall longed for a career that was part of Hollywood's early years. "If I could have lived as an actress in any period," she once said, "it would have been the 1920s—I would have loved to have been part of that speakeasy era."
She studied at the American Academy of Dramatic Arts while working as a theatre usher and model, making her debut in 1942 at the age of 17 as a walk-on in Johnny 2 x 4. After being spotted in a "small" picture in Vogue, Bacall was urged by Hollywood director Howard Hawks' wife Nancy to take a screen test for To Have and Have Not.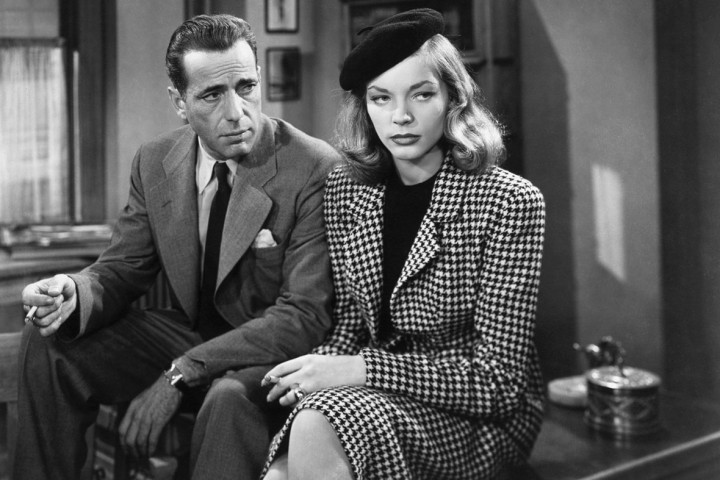 During the tests, she minimised her nervous shaking by pressing her chin against her chest and tilting her eyes up – a posture which became her trademark look, redefining sexuality for generations to follow.
"Anybody got a match?" Bacall, appearing in the open doorway of charter boat captain Bogart's Martinique hotel room, asks in the famous scene.
He tosses a box of matches to the tall, young stranger in a tailored suit. She takes out a match, strikes it and gazes indifferently at Bogart before lighting her cigarette.
"Thanks," she says, tossing the matchbox to him and leaving.
She began to see Humphrey Bogart within several weeks of shooting, and it was in To Have and Have Not that Bacall taught him – his character Steve – how to whistle, in one of the most famous lines in Hollywood history.
"You know you don't have to act with me, Steve," she says to him. "You don't have to say anything and you don't have to do anything – not a thing. Oh, maybe just whistle."
"You know how to whistle, don't you Steve? You just put your lips together and blow."
"It was Howard Hawks who changed my life," Bacall later told Vanity Fair magazine in 2011. "Despite all of his great accomplishments—Bringing Up Baby, Scarface, some of the best pictures to that date—his one ambition was to find a girl and invent her, to create her as his perfect woman. He was my Svengali, and I was to become, under his tutelage, this big star, and he would own me."
Bacall and Bogart married in 1946, and appeared together in the film noirs The Big Sleep and Dark Passage in 1946 and 1947. She featured in John Huston's Key Largo in 1948, and was cast alongside Gary Cooper in the period drama Bright Leaf in 1950.
Their marriage ended in 1957 when Bogart died of cancer at the age of 57. She was briefly engaged to Frank Sinatra, before marrying actor Jason Robards in a turbulent, eight-year relationship.
In Young Man with a Horn (1950), often considered the first big-budget jazz film, Bacall played a two-faced femme fatale alongside Doris Day and Kirk Douglas. She had another big break in a runaway hit How to Marry a Millionaire with Marilyn Monroe and Betty Grable, receiving praise for her part as the witty gold-digger Schatze Page.
She continued acting into the 1990s, gaining her only Academy Award nomination for The Mirror Has Two Faces in 1996.
Off-screen, Bacall supported liberal causes, campaigning for Democrat Robert Kennedy, later denouncing the mediocrity of modern-day Hollywood. Renowned for her outspokenness, Bacall described herself as an anti-Republican.
"Being a liberal is the best thing on earth you can be," she said in an interview with Larry King in 2005. "You are welcoming to everyone when you're a liberal. You do not have a small mind."