When Marine Le Pen first ran as a presidential candidate in 2012, she failed to replicate her father's success in the previous decade, when he faced off against incumbent Jacques Chirac in the election run-off. Yet, with 17.9% of the preferences, she received a larger share of the vote than the founder of the Front National (FN) Jean-Marie Le Pen could ever muster.
Five years later, Le Pen is again running for president, but this time she has fully stepped out of her father's shadow. The Le Pen surname no longer features in the campaign material nor on the campaign website. Instead, she wants to simply be known as "Marine".
In the past six years as party leader, Marine has endeavoured to offer a less radical image of the Front National, which was born out of an alliance with the neo fascist "New Order" movement in 1972, and has been dragged by Jean-Marie into various controversies surrounding racist and anti-semitic remarks.
Her strategy increasingly put father and daughter publicly at odds with one another, in an escalation of tensions that ended with Jean-Marie's ousting from the party in 2015. This firmly closed a chapter of family history that has long been intertwined with that of the party.
Jean-Marie founded the party when Marine, the youngest of his three daughters, was four years old. Within a decade, he took the party from 0.74% of the vote in the 1974 presidential elections to a 10% share in the 1984 European election. Jean-Marie thus gained a seat in at the EU parliament but in the same year his wife Pierrette Lalanne left him for journalist Jean Marcilly, whom she had met as he was writing her husband's biography.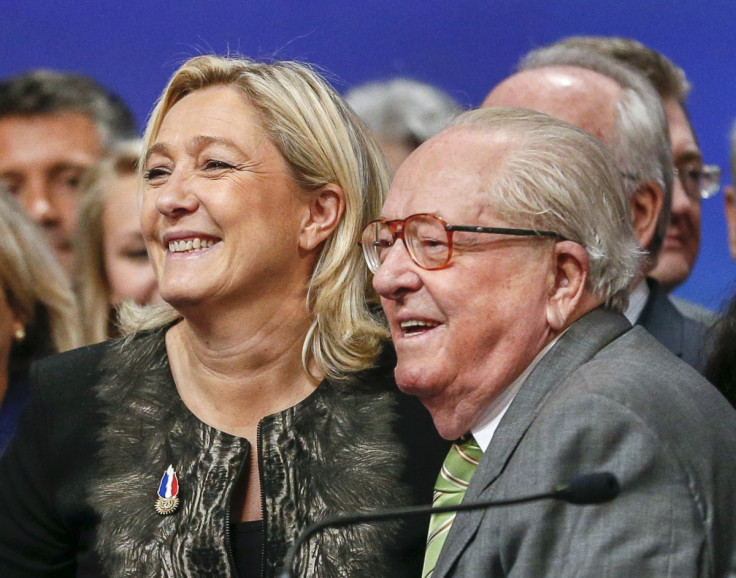 Still a teenager, Marine joined the party in 1986, following in the footsteps of her older sister Marie-Caroline, who had run in local elections the previous year. As the eldest of the three daughters, Marie-Caroline was naturally considered to be her father's heir. She was elected to the post of regional councillor in 1992 and joined the party's national committee in 1997.
She married twice, both times with influential members of the party, but it was with her second husband Philippe Olivier that she broke free from her father. She followed Jean-Marie's former ally-turned-rival Bruno Mégret who founded the National Republican Movement in 1998, after criticising the Front National founder's extreme positions.
Marine condemned her sister's "treason" without mincing her words. "Marie-Caroline has an Oedipus complex. At 40, it's a bit late, in my opinion. She betrays and behaves badly," she said, quoted in Liberation. In the same year as her sister's betrayal, she was elected as a regional councillor and was tasked by her father to ensure Mégret's influence in the party was purged after his departure.
In the run for the 2002 presidential election, Marine was part of her father's team of close advisers and she attempted to "de-demonise" the controversial image of her father and the party in the run-off stage of the presidential election. The beating Jean-Marie would suffer against Chirac still represented his personal best result: 17.8%.
Galvanised by the relative electoral success, Jean-Marie remained the party boss for almost another decade, running once again as president in 2007 - at 78 years and 9 months, he was the oldest candidate ever to compete in an election. He only gathered 10% of the preferences, and triggered more controversy along the way. In January 2005, just a few weeks before the yearly commemoration of the Holocaust, he had claimed in an interview that the Nazi occupation of France during World War II "was not that inhumane".
Following those comments, Marine took a leave from the party's board, although she continued to campaign for a referendum against establishing a European Union constitution. She eventually came back to the party and decided to fight for the leadership against Bruno Gollnisch, a long-time collaborator of her father whom he had indicated as his heir during Marine's leave. Jean-Marie decided to support his daughter in January 2011 and she defeated Gollnisch with a 67.65% majority.

The Le Pen's presence in the party is ensured for the generations to come. Marine's personal life is deeply intertwined with that of the party. Her two former husbands were party officials. After two divorces in 2000 and 2006, Marine became romantically linked to Louis Aliot in 2009, who served as party vice-president in 2011 after Marine's election as leader.
It does not end with Marine. Not only does she have three children of her own, but her niece, the daughter of Marine's second sister Yann, was elected as a member of parliament in 2012 - the youngest in modern French history.
Marion Maréchal-Le Pen, the granddaughter of Jean-Marie, is often seen as a bridge between him and Marine, although she is now firmly supporting her aunt's campaign. In a photo shared on Twitter on 4 February, the aunt and niece embrace. "Forward, to victory!" the young Le Pen wrote.
According to psychologist Serge Hefez the family conflict is far from over. In an interview to Deutsche Welle, he said: "The intergenerational conflict will surely repeat itself, between aunt and niece, and Marion Marion Maréchal-Le Pen is now expected to be the "aunt's murder".