Leaders of China and Taiwan meet for the first time in more than 60 years
Leaders of political rivals Taiwan and China met on Saturday (7 November) for the first time in more than 60 years for talks that come amid rising anti-Beijing sentiment on the self-ruled democratic island, weeks ahead of elections there.
The talks between China's President Xi Jinping and Taiwan President Ma Ying-jeou – the first such meeting since China's civil war ended in 1950 – are being held at a luxury hotel in the neutral venue of Singapore
Both men shook hands and smiled in front of a mass of journalists, Xi wearing a red tie, the colour of the Communist Party, and Ma a blue one, the colour of his Nationalist Party.
Moving into a meeting room, Xi, speaking first and sitting opposite Ma, said Chinese people on the two sides of the Taiwan Strait had the ability and wisdom to solve their own problems.
"Sixty-six years of development of the cross-strait relations indicates that no matter how much wind and rain the compatriots of both sides have been through, no matter how long we have been kept away from each other, no force can keep us apart, because we are brothers linked by blood. Bones may be broken, but they are not split, we are one family," Xi told Ma.
"At present, the development of cross-strait relations is faced with a choice of direction and path. We sit together today so the historical tragedy will not be repeated, the achievements of the peaceful development of cross-strait relations will not be lost, compatriots on both sides can continue to live a peaceful life and the coming generations can share a bright future," he added.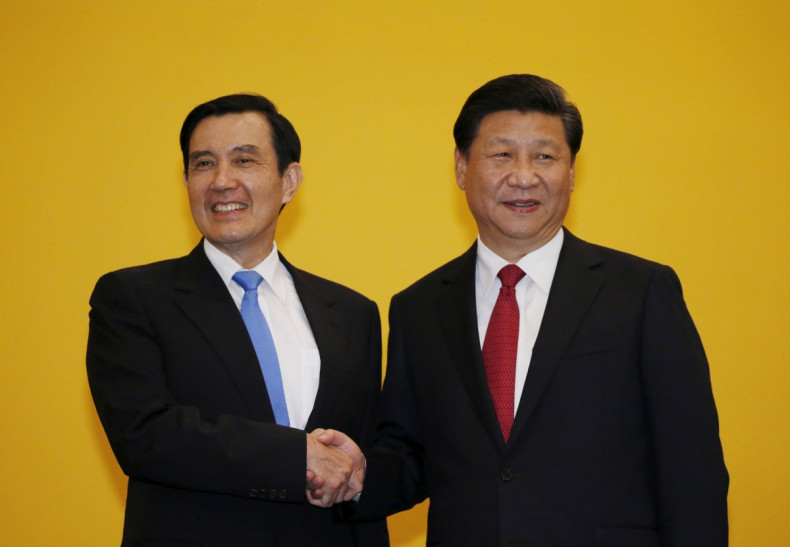 In response, Ma said he was determined to promote peace across the Taiwan Strait and that relations should be based on sincerity, wisdom and patience.
"At this moment, Mr. Xi and I sit from across each other, behind us is the history of more than 60 years of separation, before our eyes are the results we achieved in the past few years via our commitment to replacing confrontation with dialogue and replacing conflicts with reconciliation, at our hands is the goal of permanently extending peace and prosperity. At this very moment, the sides from across the strait are shouting out aloud to the whole world our commitment to enhancing peace across the Taiwan Strait, and our message to push forward regional peace," said Ma.
"For the sensitive topics that both sides insist, they require both sides to face reality, and resolve pragmatically with wisdom, patience and sincerity. However, we still managed to achieve reconciliation and cooperation, promote perpetual peace and prosperity under the negotiation framework set up by the two sides over the years, which is also the common aspiration of the two sides and the international community," he added.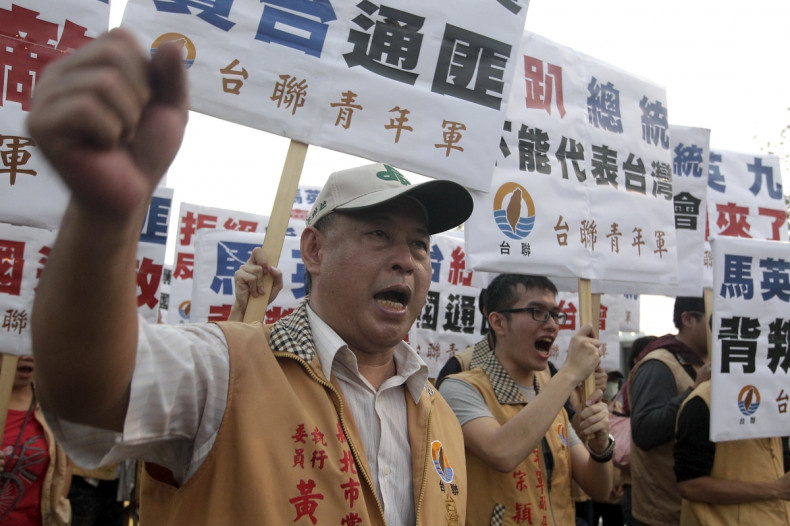 China's Nationalist Party, the Kuomintang (KMT), retreated to Taiwan after losing the civil war to the Communists, who are still in charge in Beijing. The People's Republic of China has never renounced the use of force to regain control over Taiwan, which it views as a breakaway province.
The meeting comes ahead of presidential and parliamentary elections on Taiwan which the independence-leaning Democratic Progressive Party (DPP) is favoured to win, something Beijing is desperate to avoid.
While bilateral trade, investment and tourism have blossomed, particularly since Ma's KMT party took power in 2008, there is deep suspicion on both sides and no progress has been made on any sort of political settlement. No agreements are expected in what is seen as a highly symbolic get-together in Singapore, a largely ethnic Chinese city-state that has maintained good ties with both countries for decades.
Protests were reported in the Taiwanese capital Taipei with some anti-Beijing campaigners attempting to enter the parliament. Some arrests have also been made, with local reports saying demonstrators burnt pictures of Ma and Xi in opposition to the historic meeting.