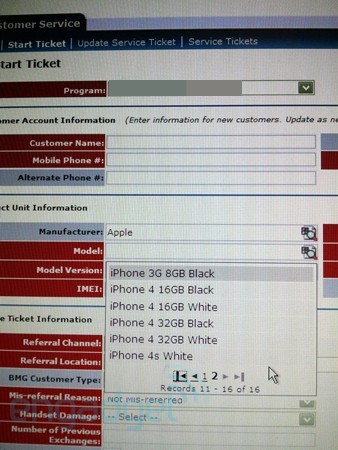 A "leaked" image allegedly taken from U.S. network AT&T's internal computer system suggests Apple's next entry into its iPhone franchise may be the iPhone 4S, rather than the next generation iPhone 5 handset.
The image appeared in Engadget's Web site Saturday and was reportedly sent in by an unnamed "helpful tipster." The existence of the "iPhone 4s White" on the product list has since been taken as an indication that as opposed to the highly speculated, though currently unconfirmed, iPhone 5, Apple plans to release a new version of its current iPhone 4.
The news follows a slew of conflicting reports by the world's media regarding Apple's next entry into its iPhone franchise. Despite the lack of official word from Apple, there are currently two prominent theories regarding the direction Apple will take for its next iPhone.
The first suggests that the company will attempt to break into the currently Android-dominated affordable smartphone market. The theory alleges that the company plans to release an updated budget version of its current iPhone 4 handset. As is the case in the latest rumour from Engadget, the new budget device is commonly referred to by the media as the iPhone 4S.
The second theory suggests that Apple is set to release a truly next-generation iPhone. Labelled the iPhone 5, the exact details of what changes and upgrades will be made to the device to improve it past Apple's current iPhone 4 vary web site to web site.
The news follows a similar alleged leak by UK network provider Vodafone. The leak emerged earlier in September, suggesting Apple planned to release the iPhone 5.
The leak occurred after the iPhone 5 appeared on a list of devices compatible with Vodafone's Sure Signal product. The list mentioned four "iPhone 5" models. Specifically it listed 16GB and 32GB versions of the iPhone 5, both being offered in black or white.
To date Apple has released no firm data regarding either the iPhone 5 or 4S. In keeping with this policy, at the time this article was written Apple had not commented on Engadget's latest report.