Photographs claiming to be of the iPhone 6 have been branded fakes by renowned smartphone leaker Sonny Dickson.
The images, which Dickson tweeted and posted on his site, originated from an anonymous Twitter account called mornray996 and show what is claimed to the the rear cover of Apple's upcoming smartphone.
Surfacing on 12 February, the images show a light grey/silver-coloured rear case finished in aluminium, with a black Apple logo and iPhone motif; although no measurements are give, the case appears to be larger than that of the iPhone 5 and 5s, assuming the rear camera and flash are the same size as before.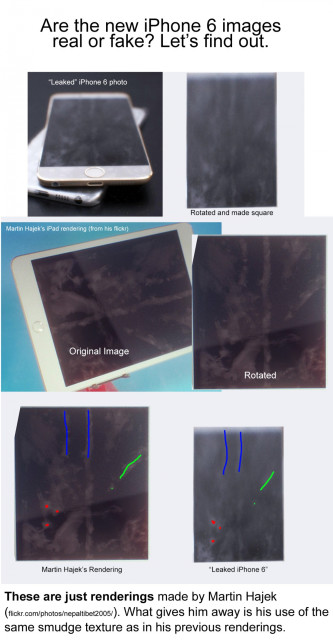 But detective work revealed the screen of the alleged iPhone 6 was covered in exactly the same pattern of smudges and fingerprints as the iPad rendering of Dutch designer Martin Hajek.
Given the iPhone 6 is expected to arrive in the autumn, prototype components are undoubtedly being produced by Apple right now, but Dickson poured cold water on this set of images, first saying "I'm not 100% sure this is the real back housing," then tweeting "Yes, I no its Fake," several hours later.
Doubts
Doubts were also raised over the images when an apparent telecoms engineer commented on Dickson's website, stating the position of radio antennas on the render as "forbidden by international regulations."
Although we now know the images to be fake, they fall broadly in line with what is expected from the iPhone 6. Multiple reports from sources familiar with Apple's plans say the company will release two iPhones of varying screen sizes - one around 4.7in and another of about 5.7in, both larger than the 4in iPhone 5s.
The curved bottom edge of the renderings could also be seen in the real iPhone 6, ditching the current iPhone's flat edges in favour of the curved iPad Air and iPad mini.