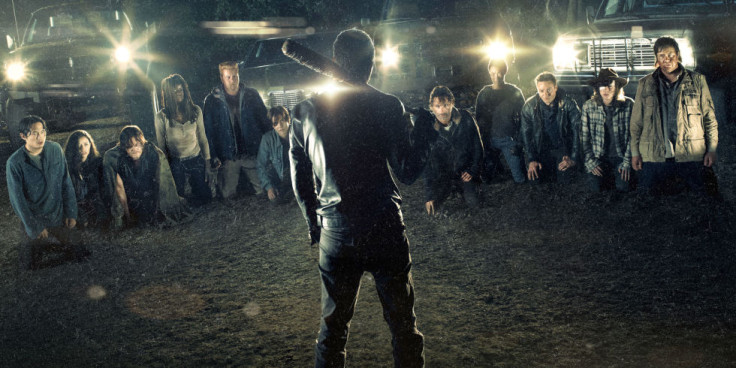 The Walking Dead season 7 premiere episode finally revealed the identity of the victims. Negan not only bludgeoned Glenn and Abraham to death, the Savior leader also broke millions of TWD fans' hearts by killing their favourite characters in the gnarly scene.
But as reported earlier, AMC has filmed multiple death scenes in a bid to keep the plot a secret. And it appears one of the death scenes have leaked online. In the first episode of the seventh season, fans saw Glenn die a horrific death after Negan battered his head repeatedly with his barbed-wired baseball bat Lucille. The leaked scene, however, features an equally heartbreaking death of Maggie, Glenn's pregnant wife.
The original YouTube video, which has since been deleted citing copyright claims, reveals the last member of the Greene family being smacked down by Negan, while her husband cries helplessly. Many fans have thanked Robert Kirkman and the show's other crew members for avoiding Maggie's death, which was equally horrifying and brutal.
The graphic murder scene of the premiere episode has polarised viewers. Addressing the criticism show's executive producer and episode one director Greg Nicotero said that they wanted to 'push it a little bit.'
"When we shot the Season 5 premiere, we had everybody at the trough and we went down the line and you saw these guys being murdered and drained of blood. That was purely a mechanism just to show how bad the people in Terminus really were. With Negan, you only have to see that once or twice to know this guy means business. The haunting remnants of that episode are very very similar to how I felt when I read the comic book and I experienced that sense of loss and the futility of trying to step in. Rick Grimes is powerless to stop this and that's something we've never seen on the show. I think the violence and brutality are a part of the helplessness. Seeing our hero completely crushed in front of us is more disturbing than the actual violence for me," he told IGN.
The Walking Dead season 7 air every Sunday night on AMC.