At least 17 people, including a police officer and two children, were killed in fresh mudslides in Colombia on Wednesday (19 April). Nine people are reported missing with nearly two dozen injured as rescue work continues.
The country is still recovering from the devastating mudslides triggered by heavy rains that lashed Mocoa city about three weeks ago, killing over 250 people.
The latest disaster struck the mountainous coffee-growing Manizales city in western Colombia early on Wednesday morning while people were still asleep. At least 40 to 50 avalanches of mud and rock destroyed homes and inundated the streets after the region received the equivalent of a month's rain in the span of five hours.
President Juan Manuel Santos tried to visit the disaster-struck region, but bad weather reportedly forced him to land 200km away in Medellin, the Associated Press reported.
"It rained in Manizales like it has never rained before," he said during a live broadcast. He added that residents stuck in high risk areas were being evacuated. National agencies have been mobilised to assist in the rescue operation.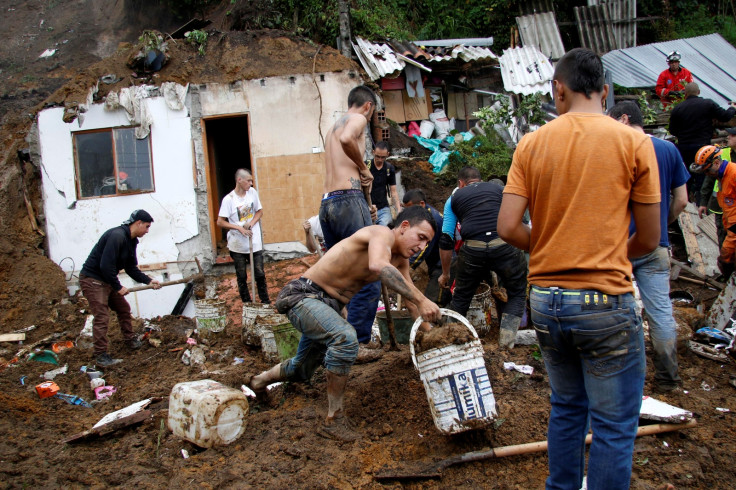 Transport minister Jorge Eduardo Rojas said authorities monitored several hillsides that showed risk of collapse and evacuated many residents beforehand. "What we need to do now is prevent" more deaths, he noted.
The Mocoa landslides and the recent one in Manizales both struck in the early morning hours when people were asleep and were caught off-guard. The disaster also hit areas inhabited by economically weaker sections who live in precarious housing developments, leading to more damage.
Ana Henao, a resident, told the news agency that the roof of her house started to collapse on Tuesday (18 April) evening after incessant rains. She said she was awake through the night expecting worse was still to come when a stream of mud began burying their home. She grabbed her 12-year-old daughter and ran to safety immediately, she added, noting that some other neighbours could not respond quickly and were buried in the debris.