Climate change caused the deaths of over 250 people in Colombia's Mocoa town, President Juan Manuel Santos said on Sunday (2 April) after paying a second visit to the area that was struck by a landslide a day before.
Most of the victims of the deadly mudslide have been identified and many of them are children, the president said, vowing to continue relief and rescue efforts until the last person affected by the calamity was identified.
Providing details of the death toll as of Sunday, the government first said 207 people were dead, but later matched it with the 254 deaths reported by the army, Reuters reported. The government added that over 200 were injured.
Of those who lost their lives, 170 have been identified and 44 are children, Santos said. The president also tweeted on Sunday that officially, there were no missing persons. This is contrary to the army's claims that several people were still unaccounted for.
Disaster officials reportedly said more than 500 people were staying in emergency shelters as many seek information about family members.
Meanwhile, relief work continued over the weekend, with more than 1,000 soldiers and police personnel deployed in the area. Santos, who visited the affected region soon after the disaster struck on Saturday and again on Sunday, has pledged to make Mocoa better than it was before the devastation.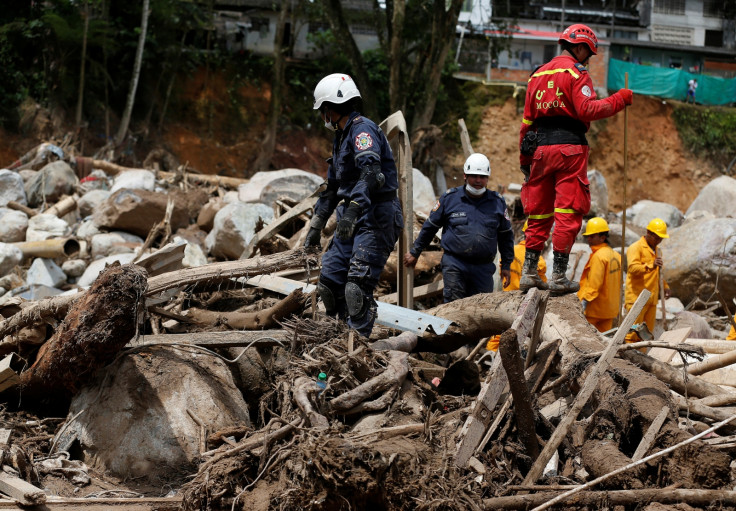 Blaming climate change as the major cause of the sudden downpour in Mocoa, he said the region had received one-third of its usual monthly rain in just one night that resulted in the rivers overflowing and flooding the region.
According to the BBC, a senior UN official in Colombia, Martin Santiago, also said the same. He noted that climatic change has caused "tremendous results in terms of intensity, frequency and magnitude of these natural effects" in the region.
Other officials blamed it on deforestation. "When the basins are deforested, they break down. It is as if we remove the protection for avoiding landslides," Adriana Soto, a Colombian conservationist and former environment minister, said.
The government has announced compensation of about $6,400 (£5,105) for the family members of the dead. The government will also cover hospital costs for the injured and funeral costs for the dead.