At least 18 Egyptian policemen were killed in Sinai Peninsula on Monday (11 September) in an attack claimed by Isis. The militants ambushed a police convoy while it was near el-Arish town in northern Sinai.
Seven others were also injured in the attack that was termed as the deadliest since July when Isis killed 23 troops in a remote army outpost in Rafah in North Sinai.
The Egyptian Interior ministry confirmed the attack in a statement and said several policemen were killed or wounded, but did not provide any casualty figures. However, police and military officials told Al Jazeera that the fatalities included two police lieutenants. They added that a police brigadier general was among the wounded.
The militants reportedly set off roadside bombs that blew up four armoured vehicles and one carrying signal jamming equipment. The Isis fighters then opened fire on the police convoy and commandeered a police pick-up truck, the news channel report stated.
The interior ministry statement said the convoy was travelling between el-Arish and Qantara when the attack took place. It added that at first, a suspect vehicle tried to break into the convoy, the BBC reported.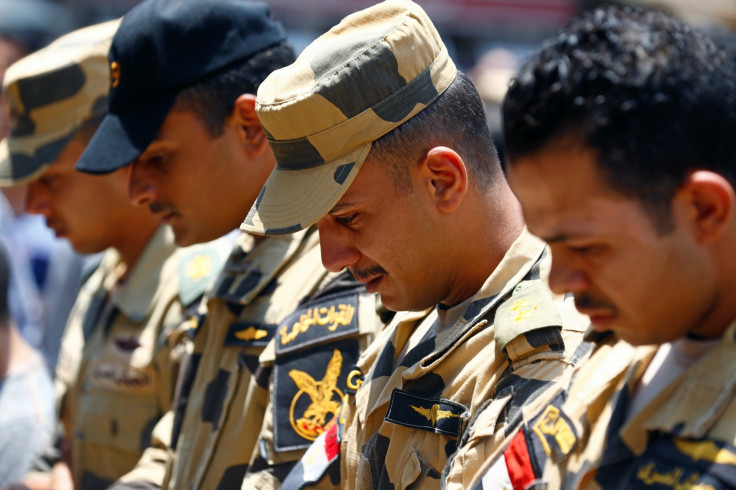 "When police forces dealt with the vehicle, it exploded and caused damages to the patrol's vehicles," the statement read. "This was followed by a shootout between the police officers and the terrorists, resulting in the death and injury of several policemen."
Soon after the attack, Isis issued a statement on its Amaq news agency claiming responsibility.
The Egyptian prime minister's office termed the attack as a "traitorous incident", according to a government statement.
"Prime Minister Sherif Ismail affirmed the state's determination to fight these criminal actions that target the safety and will of citizens with its full force," the statement reportedly read.
The Monday attack took place about 30km west of el-Arish, the capital of North Sinai province. The town is a witness to regular conflict between government forces and Isis. Besides targeting security forces, the Islamist militant group has also attacked the minority Christians and their Coptic churches in the country in the recent past.