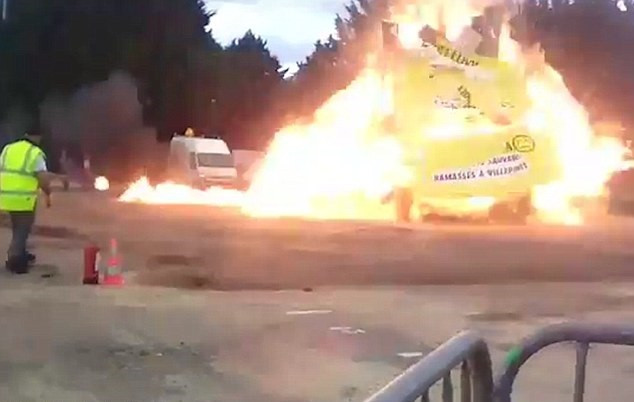 20 people were injured after a fireworks display at a Paris carnival turned to tragedy.
Four people were critically injured when a 'Bengal Fire' display exploded into the crowd throwing spectators at the Guy Mousset Stadium to the ground, just before 6pm on Saturday (1 April).
A wooden figure made from straw and sticks dubbed "Mr Carnival" was set alight, sparking the explosion which sent shards of burning wood flying into the crowd.
"The person who lit it up was thrown several metres," a witness told Le Parisien newspaper The Telegraph reports.
Eyewitnesses shared images of the blaze, with one spectator describing chaotic scenes as people tried to escape the explosion . "Bits of the guy and other debris flew towards us in every direction, like spears. The bits of wood were burning hot," the eyewitness reported. "People were shouting in panic, and the worst hit were lying on the floor. They had just lit the effigy, and the idea was that it would light up and burn surrounded by flares.
"To begin with, everyone thought the explosion was planned, then we realised something had gone terribly wrong."
Among the injured were children, hundreds of whom had arrived at the event to celebrate the start of Spring. An eyewitness said one of the children was left with horrific injuries while others were separated from their parents. "The kid was screaming and covered in blood. Many parents lost their children in the mass panic, and were running around trying to find them.'
Martine Valleton, the Mayor of Villepinte, was among those injured in the explosion after being struck by debris in the leg. A spokesman for Ms Valleton said: "The accident was completely unpredictable. She is being treated along with the others injured."
Emergency services rushed to the scene amid fears that the fire might engulf the floats that were used in a procession at the carnival. By 8.30pm the area was cordoned off by police as paramedics tended to the wounded.
According to Mail Online a spokesman for the local emergency services said: "'round thirty vehicles including ambulances and fire engines are at the scene. The emergency is ongoing."
"Bengal Fires" are banned in many countries because of the risks of explosions.