At least three people lost their lives and 12 others got injured after a fire broke out in a high-rise building in the Hawaiian capital of Honolulu on Friday (14 July) afternoon.
According to the reports, the blaze started at around 2.15pm local time (8.15pm ET, 12.15am GMT) on the 26th floor of the 31-storey Marco Polo apartments and soon spread to two floors higher.
The 46-year-old building has a 538-unit that houses condominiums and apartments on Kapiolani Boulevard, Honolulu Mayor Kirk Caldwell said.
Thick black smoke and flames were seen coming from the high-rise building and debris of condominiums was seen falling more than 20 stories as the fire burned through several floors.
City's fire department chief Manuel Neves said that the three dead people were found on the 26th floor of the building but feared that the number of fatalities could increase. Around 100 fire fighters are believed to have been tackling the incident at the building, which did not have sprinklers.
"It's very difficult, even with the equipment that we have on -- to make our way to the floor of the fire. Without a doubt, if there was sprinklers in this apartment the fire would be contained to the unit of origin," Neves said.
The reason of the fire is still not known and Mayor Caldwell admitted that if sprinkles would have been there, the fire could be contained easily. He called the incident a "good example of what it means when you don't have fire sprinklers", CNN reported.
Fire department spokesman Captain David Jenkins said that rescuers were going door-to-door to search for people who might need help. He said that the building was partially evacuated but some residents were trapped in their units.
"We could see smoke billowing out already and the ground was scorched outside the stairwell," Patrick Williamson, who lives on the 32nd floor with his two sons, told the Guardian. He added that he left the building soon after smelling smoke.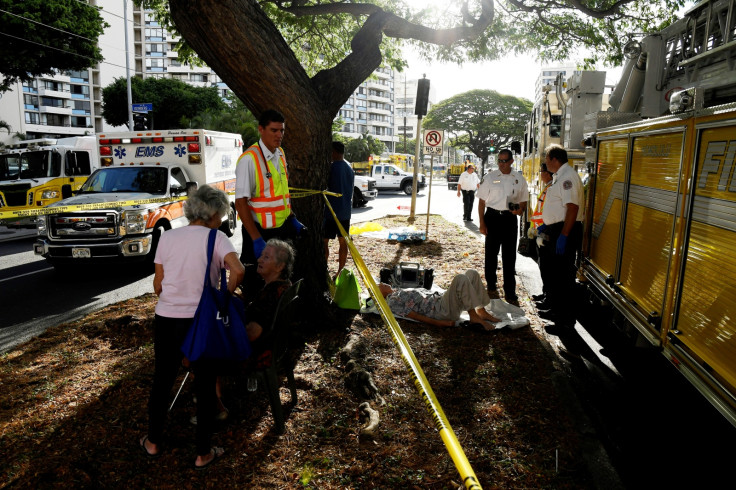 Troy Yasuda, who lives in a building across the street, was giving water to people who evacuated. "They were choking from the smoke," he said, adding that people told him they evacuated through dark stairwells.
"I looked out my window and noticed black smoke. I then opened my window to find the fire was a unit above us, just across. I also heard a neighbour above screaming for help," resident Joel Horiguchi said.
Reports say a number of ambulances have responded to the emergency. Also, paramedics and emergency personnel are checking residents and treating them for smoke inhalation, while the American Red Cross is helping residents with food, shelter and clothing.
The incident came a month after a major fire broke out in the Grenfell tower in West London. It caused at least 80 deaths and injured more than 70.