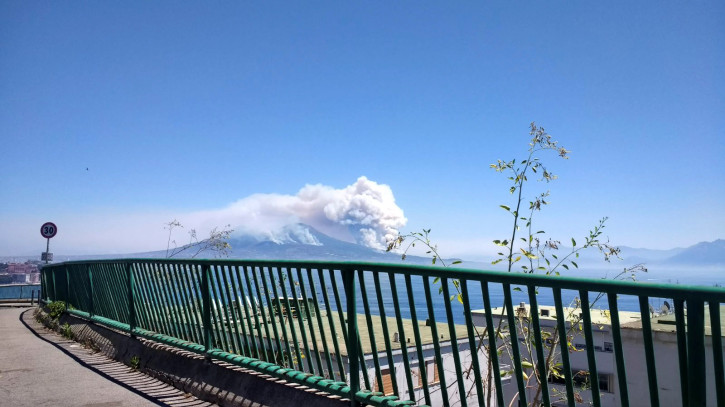 Around 700 tourists have been evacuated by boat from a beach resort in Sicily on Wednesday (12 July) as wildfires continue to burn in southern Italy.
As the fires reached the seaside resort of Calampiso, local authorities sought help from fishermen and boat-owners to help with the evacuation.
There were no reports of injuries caused due to the wildfire. Evacuees were taken to schools in San Vito.
Matteo Rizzo, the mayor of nearby San Vito Lo Capo, appealed for help from "anyone with safe and reliable boats". The mayor has also urged his "friendly and generous" town to pull together and help evacuate people.
The mayor on his Facebook page has called the situation at the village west of Palermo "very urgent".
"We need minibuses and cars to pick people up at the little port and take them to school buildings," he said. "Let's all do something."
The temperatures have soared above 40 degrees Celsius (104°F) in the arid southern regions after months of scant rainfall.
Prime Minister Paolo Gentiloni said in a speech that 23 fires were raging in the country and the government was "actively following this difficult situation".
The national fire service said it was engaged in 441 operations across Italy including 288 wildfires. Vesuvius is the most affected.
Around 70 fire-fighters have tackled the huge fire on the ground, alongside Civil Protection volunteers. Three helicopters have also been deployed to help contain the fire.
According to Environment Minister Gian Luca GallettIt, a man has been arrested on suspicion of arson in the area.
"If someone set fire to Vesuvius, I want to see them in jail for 15 years," Galletti told the Italian media.
Thousands of people, animals, and nature reserves are at risk around the volcano, the World Wildlife Fund (WWF) said.
"The situation is extreme, so extraordinary action needs to be taken," WWF said in a statement.
Beppe Grillo, leader of the anti-establishment 5-Star Movement, wrote on his blog: "#Vesuviusisburning" and called for a national state of emergency to be declared.