The Lebanese government has announced a temporary solution to the eight-month-long garbage crisis by opening three landfills but environmentalists remain furious over the move. Activists, who have already gathered in Beirut, have vowed to bring the country to a standstill.
Lebanon's Information Minister Ramzi Jreij said two landfills would be set up near Beirut while the third would come up on the outskirts of the capital. The minister added these would take care of the worsening garbage crisis for the next four years before a permanent solution is found.
The crisis over garbage disposal gripped Lebanon in July 2016 when the government closed a landfill in the south of Beirut. No alternative sites have been created since the landfill was shut. The government's proposals to either export or treat trash have not made headway.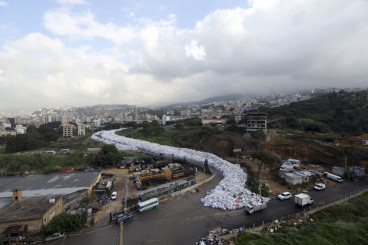 Reacting to the government's move, the activists said: "The landfill was closed in July 2015 and it will not be reopened. We will block the road at the entrance and will prevent dump trucks from entering."
As many as 3,000 campaigners from the "You Stink" movement took to the streets against the government's announcement over the weekend. "The final warning has been sent, and we are now in a new phase. On Monday [14 March] we will paralyse the country," the activists said in a statement.