Comedian Lee Nelson (whose real name is Simon Brodkin) has managed to infiltrate a Zurich press conference today (20 July), running up on stage to shower Fifa president Sepp Blatter with fake bank notes.
It has been reported that Nelson made his way to the dais and said: "Sepp, this is for North Korea in 2026" before Blatter's bodyguards pulled him away from the platform, as he turned back to say: "Cheers, Sepp - it's all there". Meanwhile, a furious-looking Blatter stepped out of the room. The conference was being held to announce reforms planned to world football's governing body, and a date for the presidential election, but had to be momentarily delayed whilst the event organisers cleared up the fake money.
It seems as if the 38-year-old is making a bit of a name for himself as a celebrity prankster as of late and this wouldn't be the first time he has targeted names in football. Whilst he managed to get into the press conference this time round, he first attempted to gain access to the Swiss administrator in May 2015, when he tried to sneak into the event dressed as his Premier League footballer character Jason Bent.
Back in 2014, it was reported that he almost managed to get on board the England World Cup squad plane along with the rest of the team, dressed as Bent, however his plans were rumbled by police at the last minute. He was also ordered to appear in court in 2013 after he got on to the pitch with Manchester City players shortly before a game at Goodison Park, again dressed as Bent.
His pranks are not merely reserved for sports personalities however; the London-born prankster also hit headlines at the end of last month when he invaded Kanye West's set during his headline performance at Glastonbury 2015.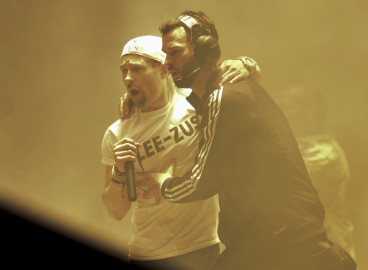 If Nelson's public stints keep earning him coverage like this, then it's fair to suggest he might be becoming the new Vitalii Sediuk - which has the jury still out on whether that's a good or a bad thing.
The Ukrainian reporter/celebrity prankster is known for making numerous A-List celebrities the butt of his jokes including Brad Pitt, Will Smith and Adele.
Way back in 2011, Sediuk started off small with his antics, getting himself noticed when he randomly presented Kylie Minogue with a jar of goat's milk whilst asking her a few questions as she was on her way to Kiev.
The Can't Get You Out Of My Head singer graciously accepted his gift and answered his queries before hurrying off. He did a similar thing when he approached Madonna at a Venice Film Festival conference, giving her a bouquet of hydrangeas.
A year later in 2012, he attempted to kiss Will Smith on the lips on the Russian red carpet for Men In Black 3, but got more than he bargained for when the actor slapped him across the face. In 2013 he interrupted Adele's acceptance speech at the Grammy Awards. The 26-year-old also got into an altercation with Brad Pitt when he attacked him whilst the Hollywood star was signing autographs at the LA premiere of Maleficent.
The same year, Sediuk stepped up his [creepy] game as he attempted to climb under Ugly Betty star America Ferrara's skirt at the Cannes Film Festival premiere of How To Train Your Dragon 2.
The notorious prankster has even targeted Kim Kardashian twice over the years.
Sediuk has invented a signature move that he used in numerous pranks, where he kneels down in front of a particular male celebrity and puts his head in their crotch. He has done this with several big names such as Bradley Cooper and Leonardo DiCaprio.
Due to his increasingly threatening pranks, officials were eventually forced to ban Sediuk from being within 500 yards of any Hollywood events and also sentenced him "a $200 (£128) fine, 20 days of community labour and 36 months of summary probation," so whilst Nelson has a long way to go before he's performed as many stunts as Sediuk, it seems as if he's paving his way to achieve a similar kind of status as of late...