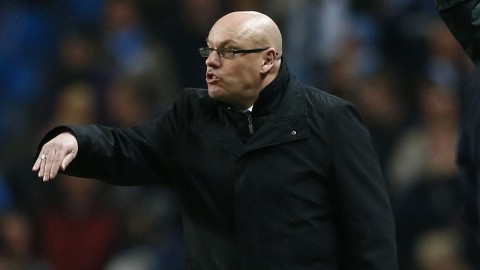 Leeds United manager Brian McDermott turned up to training on Monday morning and came to face with the club's new Italian signing – someone he has never met before.
McDermott has been at the centre of one of the most chaotic periods in the side's recent history after being 'sacked' on Friday night, only for the club to claim he is still Leeds United manager on Saturday despite his absence from the 5-1 win over Huddersfield earlier that day.
The fiasco that has engulfed the club has comes during Massimo Cellinio's proposed takeover. The businessman is in the process of buying a 75 per cent stake in the Championship outfit and McDermott's supposed dismissal came at his hand, with former Middlesbrough defender Gianluca Festa lined up to replace him.
Cellinio, who also owns Serie A club Cagliari, has attempted to introduce a number of Italian players to the club during his takeover, one of which was 23-year-old Andrea Tabanelli, who arrived at the club during McDermott's brief absence.
"Gianluca Festa was at the training ground this morning as we have an Italian player," McDermott said, AFP report.
"I don't know the player. He came on the transfer deadline day. Whether that's been ratified by the Football League I don't know.
"If he has been ratified he will get the utmost respect and hopefully he can help us."
McDermott's dismissal prompted outrage amongst Leeds fans, who descended upon Elland Road on Friday night to protest the decision and Cellinio's proposed takeover. It also sparked frustrated comments from club captain Ross McCormack, who questioned his future at the club with just hours of the transfer deadline remaining.
But after the club released a statement on Saturday insisting he would remain manager, McDermott told a press conference on Monday he will not walk away after a weekend of uncertainty.
"Some people in the game said to not go back, but there's no way I could leave the staff and supporters," McDermott said, BBC Sport report.
"The situation should never happen to a football manager and let's hope it never happens again.
"All along you think that's very odd," he said of Friday's events. "You have to be the owner, so I did think it was very strange to say the least.
"Whether it was illegal or not I don't know, but whoever sacks the manager has to own the football club."