If The Football Association felt it had successfully curbed racism and hooliganism in English football, then 2012 is proving a sore reminder that the job is far from over.
First came former England captain John Terry's four-match ban and £220,000 fine for racially abusing Anton Ferdinand; the second Premier League player to be found guilty of such an offence in the last 12 months.
And at Hillsborough, the scene of English football's darkest hour 23 years ago, an incident has now occurred which raises serious questions over the safety of professional sportsmen and women, and the rigorousness of football banning orders.
To the list of sportspeople assaulted in their workplace that includes Monica Seles, Vanderlei de Lima and Frank Lampard, we can now add Chris Kirkland.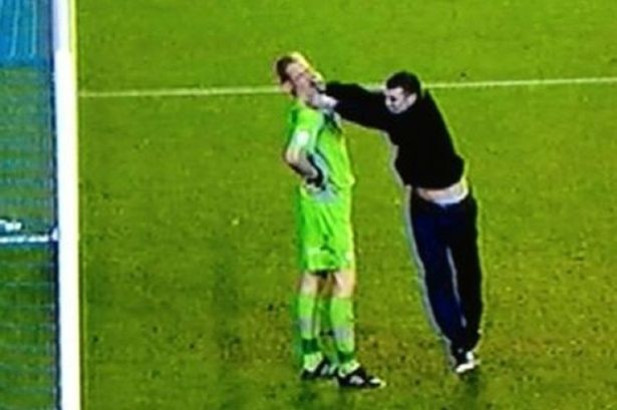 The 31-year-old goalkeeper was pushed in the face allegedly by a Leeds United fan as visiting supporters spilled on to the pitch following Michael Tonge's 77th minute equaliser for Sheffield Wednesday.
This was a highly charged Yorkshire derby, yet the apparent lack of stewards in the away end, particularly in the latter stages of the game, is a serious cause for concern, not least given the speed at which fans were removed from the playing surface.
In the 2010-11 season, police reported a record low number of football fan arrests, but Leeds supporters continue to be among the main instigators in league football. Only Manchester United had more supporters arrested in 2010-11.
How far-reaching will the consequences of Leeds fans' behaviour be? The FA will be under pressure to practise what it preaches and ban Whites fans from away matches for the foreseeable future. The incident should spark a debate into wider issues of fan behaviour, and while Leeds may be made an example of on this occasion, the threat of substantial punishment in future could act as a genuine deterrent.
Leeds fans are not the only guilty party as West Ham United and Millwall proved with disgraceful ease in 2009, when a League Cup tie erupted in violence that resulted in one fan being stabbed.
One also wonders what the Dubai-based GFH Capital made of the evening's controversy. The company, which is in negotiations to purchase Leeds United, may use Friday's events as a bargaining chip during its exclusivity period, or as a reason to pull the plug on the whole deal. Given the way Ken Bates has been received during his seven-year ownership of the club, you can imagine the fury that would accompany his continued presence at Elland Road.
Leeds enjoyed their finest period during the late 1960s and early 1970s under manager Don Revie, adopting an uniquely physical, uncompromising style to win a succcession of league and cup competitions. More recently, under Neil Warnock, the club laid the foundations for a return to the top flight, but their fans seem more intent on enhancing their reputation for being physical and uncompromising.