Arrow and The Flash spinoff series - Legends Of Tomorrow is all set to take the DC TV universe a level higher with an ensemble cast comprising the superhero team/legends. Actress Ciara Renee, who plays Hawkgirl on the upcoming show recently spoke about her role.
In an interview with Comicbook.com, Renee shared how she is so excited and at the same time challenged playing the role of Hawkgirl. She believes the role is one of the household names in the DC universe. She added that she can't wait for fans to see her get angry, which likely would trigger her transformation as Hawkgirl.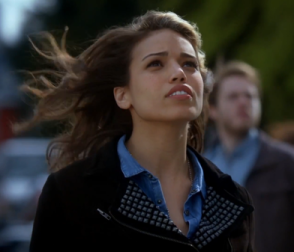 "Oh yeah, absolutely. It's interesting, because I think we're finding her before she really understands her powers and her purpose. So she's not necessarily a balls-to-the-wall human just yet, but when she gets angry... well you'll see!" she said.
Fans and viewers of The Flash would know that Renee's character - Kendra Saunders - made a brief appearance on the season 1 finale of the hit show. Apparently, it was a last minute decision by the makers.
"It was super cool. It was kind of a last minute thing. I signed on for the show, and they said, "Let's try this!" and I just said, "Absolutely!"" she said.
Apart from Renee, Legends Of Tomorrow stars Victor Garber as Martin Stein/Firestorm, Brandon Routh as Ray Palmer/Atom, Arthur Darvill as Rip Hunter, Caity Lotz as Sara Lance/White Canary, Franz Drameh (currently unknown), Dominic Purcell as Mick Roury/Heat Wave, and Wentworth Miller as Leonard Snart/Captain Cold.