In 1997, the container ship Tokio Express was hit by an incredibly strong wave that tilted the ship, knocking 62 containers into the sea, just 20 miles from Land's End in Cornwall.
One of the containers held 4.8 million pieces of Lego, bound for New York and now, nearly two decades later, tiny pieces of the plastic construction toys continue to wash up along both the north and south coasts of Cornwall, as well as Devon, Wales and Ireland.
"We have a family home on the cliff tops in south Devon and we first started to notice Lego washing up ashore in the late 1990s," Tracey Williams tells IBTimesUK.
"I had young children and we used to do treasure hunts on the beach for years. In our local community, it became quite popular to search for these Lego pieces, and finding a green Lego dragon or octopus was considered to be one of the top ten items to find, so if you found one, your neighbour wanted to find one, too."
Lego lost at sea
Williams moved to live in Cornwall four years ago and was so amazed to see Lego pieces were still washing up on beaches, such as the Cornish Perran Sands, that she set up a Facebook page called "Lego Lost at Sea" to document people's findings.
"We didn't know where it was coming from in those days. I was intrigued when I moved here that it was still turning up so I Googled it and I found some articles written about it in the late 90s in the US, so I decided to set up a Facebook group as friends said they were finding more Lego, too," she explains.
According to the ship's manifesto, the Lego toy kits lost at sea included products you might remember from old Lego catalogues like Pirates, Divers, Aquanauts, WildWest, RoboForce TimeCruisers, Outback, Police and FrightKnights.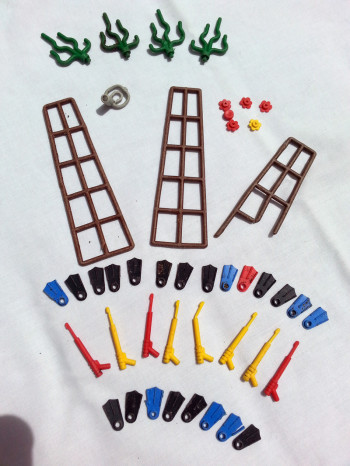 It is often quite amusing for beachcombers (people who comb beaches looking for items of value or interest, or people who just want to help clean the beach) to find tiny Lego seaweed, pairs of diver flippers, brown ship rigging nets, scuba gear and yellow life preservers coming out of the sea.
Deadly to marine life
Nevertheless, the Lego represents a serious pollution problem as the pieces are so small that sea life and birds can easily choke on them.
And there are many more items that come out of the ocean, according to Williams, who is part of an organisation in Cornwall called Two Minute Beach Clean, which encourages people to spend two minutes cleaning the beach every time they visit it, and then to post photos of the litter they have found on Twitter or Instagram.
"We've found huge amounts of fishing gear like lobster tags that comes from Canada and the US. I've also picked up many messages in bottles, intravenous drip bags that spilled from a ship's container in 2008. It's worse in the winter," says Williams.
Williams has also found toothbrushes, lighters, thousands of glow sticks, numerous shotgun cartridges, and last year at a group cleaning session, the beachcombers picked up half a million micro pellets of plastic, which are particularly deadly for marine life.
According to US oceanographer Curtis Ebbesmeyer, who has tracked the story of the Lego spill since 1997 on his website Beachcombers' Alert, the Lego could eventually make its way onto beaches in other countries.
"It takes three years for sea debris to cross the Atlantic ocean, from Land's End to Florida. Undoubtedly some Lego has crossed and it's most likely some has gone around the world. But there isn't any proof that it has arrived as yet," he told the BBC.