Lenovo is showcasing its innovation credentials by unveiling the world's first smartphone with a built-in laser projector that allows users to create a virtual touchscreen or keyboard on any surface.
While there have been a few smartphones on the market with built-in projectors – notably the Samsung Galaxy Beam – these have focused on replicating the features of a standalone projector and allow users to watch video content on a much larger screen.
While Lenovo's Smart Cast smartphone does allow this, more interestingly it can be adapted to project a touchscreen on to a desk to allow users to use a virtual keyboard. In a video demonstrating the technology (below), Lenovo shows the Smart Cast smartphone using a kickstand to stand the phone up independently before flipping the lens to project on to the desk.
Examples of what this technology could be used for include a virtual keyboard to speed up typing, a virtual piano or for playing games such as Fruit Ninja.
Lenovo unveiled the innovative smartphone at its Tech World conference in China, which saw appearances from the likes of Microsoft CEO Satya Nadella and Intel's CEO Brian Krzanich as well as Lenovo's own CEO Yang Yuanqing, who was greeted like a film star at the Beijing show.
But Lenovo, the world's biggest PC maker, is looking to change the public's perception of what it does. In 2014, the company purchased the Motorola smartphone business from Google which, combined with Lenovo's own smartphone business, makes it the world's third biggest smartphone maker.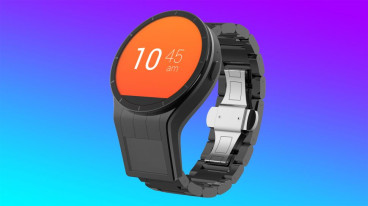 As well as announcing the Smart Cast smartphone, the company revealed what it calls the world's first smartwatch with a second screen. Magic View features a second virtual display underneath the main circular physical one, which Lenovo says will remove the limitations of small screens on wearables.
It gave no details of when its unique smartphone and smartwatch will go on sale, or whether or not they will be available outside of China.