Xiaomi will sell its Mi Band fitness tracker for just £10 in UK from 2 June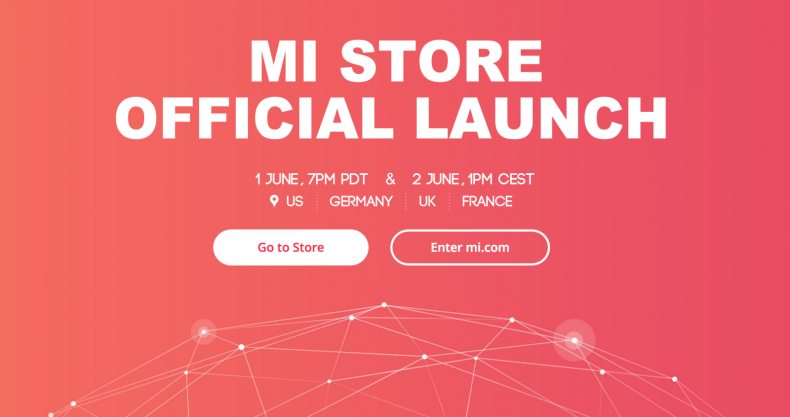 Xiaomi, the Chinese internet company which rose to prominence in 2014 by briefly becoming the third biggest smartphone maker in the world, is beginning its global expansion by launching its online Mi store in the UK, France, Germany and the UK from 1 June.
While this is a significant move for the company, it is important to note that it won't be selling its smartphones or tablets yet but will instead focus on selling its hugely popular accessories - the Mi Power Bank, Mi Band and Mi Headphones - all of which are priced very aggressively.
All products will priced in dollars only and currency conversions done at checkout where the only payment option initially will be through Paypal. The products will be shipped directly from China with delivery promised within seven days.
The products will be available to purchase in the US from 7pm (PDT) on 1 June before launching at midday (GMT) on 2 June in the UK, Germany and France.
One of Xiaomi's most popular products is its battery pack, which comes in two sizes - 10500mAh and 5000mAh and sells for $14.99 (£9.75) and $9.99 respectively. The company has sold more than 10 million units to date making it the "best selling power bank in the world".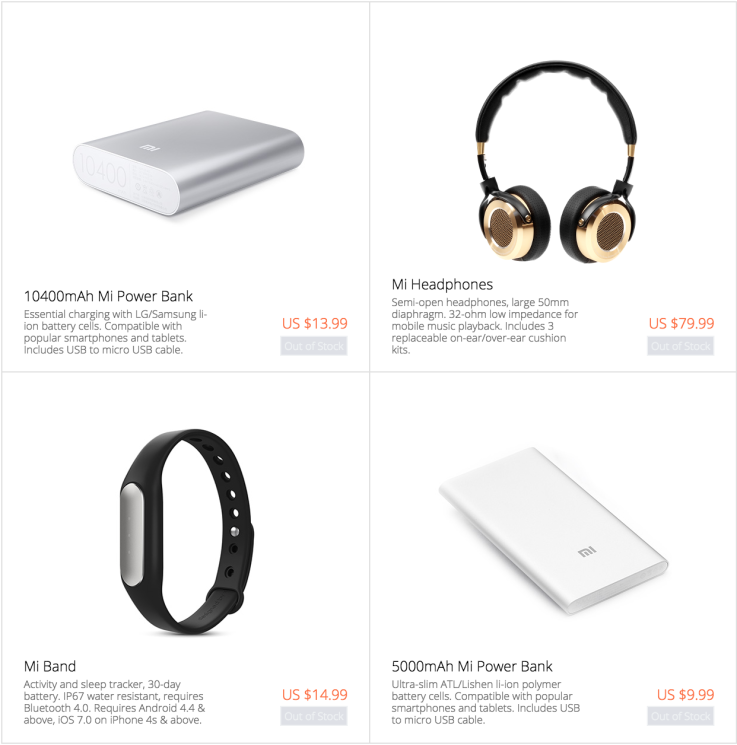 The four products to go on sale in Europe and the US
Xiaomi
The company's Mi Band offers basic fitness tracking features, including counting steps and distance as well as offering sleep tracking. However it also promises 30-day battery life and costs just $14.99 which is a fraction of the cost of similar devices from Fitbit and Jawbone.
The final product going on sale in Europe and the US will be the $80 Mi Headphone which the company describes as "audiophile-grade" and offer a listening experience only typically available from high-end headphones costing a lot more money.
High-quality products
Hugo Barra, who heads up Xiaomi's global expansion, said: "We pride ourselves on making high-quality products available at incredible prices, and I'm truly excited to bring a selection of our best-selling accessories to fans in the US and Europe. We believe that Mi fans will have a great experience with these products, and we look forward to bringing more Mi products over time to the US and Europe."
The company held a beta test of the Mi Store in the US and UK on 19 May with a limited amount of stock and it all sold out in a matter of minutes.
Xiaomi has quickly become the biggest smartphone seller in China thanks to its combination of premium hardware, low prices, unique software and the ability to develop a hugely loyal fanbase. It sells smartphone in just a handful of other Asian countries to date, most notably India.
No smartphones?
The company told Reuters the reason it is not selling its most high profile products in markets like the US and UK is because "smartphones are a lot more complex to introduce to a new market" and "it requires much more time to localise smartphones at the hardware level, and carry out certification processes".
While that may be Xiaomi's official line, many industry watchers believe that Xiaomi's small number of patents and the likelihood of lawsuits by companies like Samsung and Apple.
Another reason for the company not launching smartphones in markets like the US, UK, France and Germany is that its business model relies on it selling unsubsidised handsets directly to the consumer.
In western markets, the mobile phone operators are hugely influential and Xiaomi would likely have to strike deals with them before launching in these markets.