Leonardo DiCaprio brought a touch of Hollywood glamour to an Edinburgh café to raise awareness of homelessness in the Scottish capital.
The 42-year-old actor, who is in Edinburgh to speak at the Scottish Business Awards, dropped by for a spot of lunch at Home – a restaurant with a social purpose – in Queensferry Street on Thursday (17 November).
Crowds of people braved wintry weather to catch a glimpse of The Wolf Of Wall Street star as he made his first visit to Scotland. Bringing the streets of Edinburgh to a standstill he didn't disappoint, taking time to sign autographs and pose for selfies with delighted fans.
The Co-founder of Home, Josh Littlejohn, welcomed the Oscar winner into the unique eatery, where he was treated to lunch cooked by staff, each of whom have experienced homelessness.
The restaurant, which is a joint venture between Social Bite and a local restaurant group, Maison Bleue, aims to provide a great dining experience, while giving customers the chance to show their support for the homeless.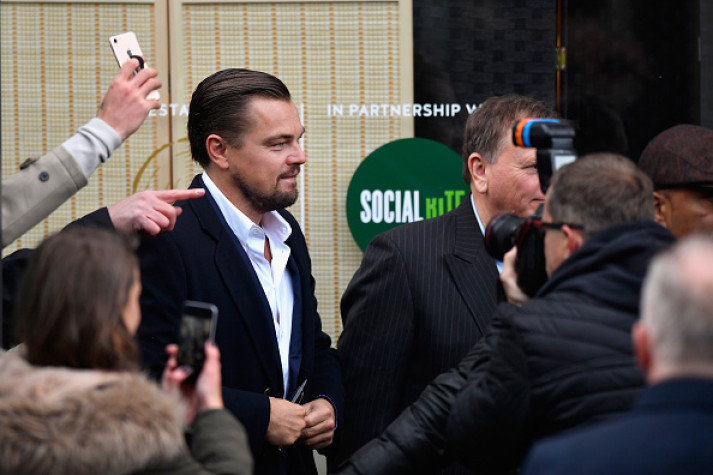 As well-being afforded training and job opportunities through the restaurant, homeless people are invited as guests every Monday, where they can dine with dignity.
The brainchild of Littlejohn and Dean Gassabi, who owns the Maison Bleue restaurants, the initiative aims to break the cycle of homelessness.
Social Bite co-founder Josh said: "It was such an honour to have Leonardo DiCaprio visit our brand new restaurant, Home. For Leo to choose to highlight this initiative whilst in Scotland is very humbling and we are grateful to him for raising the awareness."
Cooking for the A-list star were Biffy Mackay, Sonny Murray, Colin Childs and Joe Hart, with a little help from top chef Dean Gassabi.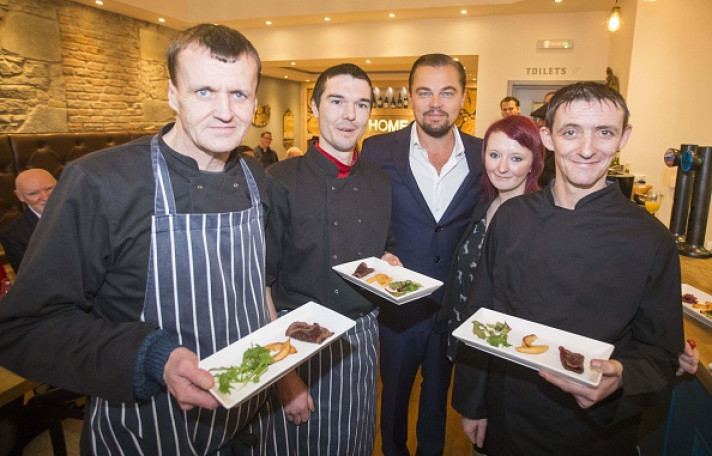 McKay, who was homeless for five years before joining Social Bite, said: "When you are homeless people don't look at you, they look through you. I didn't feel like person back then, I felt invisible."
Commenting on the experience of cooking for an Oscar winner she said it was a "dream come true." She added: "Now I have totally turned my life around and it has given me such a big confidence boost to cook lunch for Leo DiCaprio. I have loved him since I was little girl, it's a dream come true."
Describing his personal struggles, Sonny Murray said that Home helped him get back on his feet. "Three years ago I was begging and used to come into Social Bite for free food. I had a baby daughter on the way at the time, and wanted to get a job.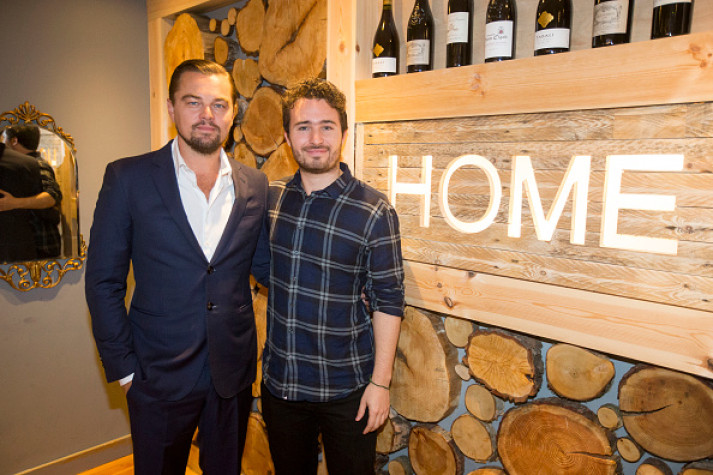 "I didn't have many prospects at the time, I was in and out of prison and taking drugs. They took a chance on me and I grabbed it with both hands. I still have a full time job and to have just cooked lunch for one of the biggest movie stars on the planet Leo DiCaprio is something I'll never forget."
Colin Childs added: "... cooking lunch for such a big star is class and something to add my CV!"
Previous celebrity visitors who have supported the social enterprise have included George Clooney, who met staff at a Social Bite sandwich shop in Edinburgh last year, and the Duchess of Cornwall who popped in during a royal visit.
Social Bite has cafes in Edinburgh, Glasgow and Aberdeen which operate the same "pay forward" scheme and employ a number of people who have previously been homeless, according to Mail Online.