He has side-tracked his Hollywood career to focus on environmental activism, and now Leonardo DiCaprio's latest documentary with National Geographic has made a global case in the week leading up to the 2016 US election.
The docufilm, Before the Flood, stars The Revenant Oscar-winner and is currently streaming on YouTube, Twitter and other platforms. It will be available to stream on the channel entirely free of charge until 6 November.
DiCaprio steps up to the role of an intrepid environmental investigator in the documentary, and tackles the negative effects of climate change while seeking a viable way to prevent the demise of endangered species, ecosystems and native communities across the planet.
It presents a riveting account of the dramatic changes currently occurring around the world due to climate change, and also addresses the actions we as individuals and as a society can take to prevent catastrophic disruption of life on Earth.
It can be pointed out that Democrat frontrunner Hillary Clinton has committed to a $US60bn 10-year-energy, environment and climate plan as part of her election platform. It has been suggested that DiCaprio's insistence on releasing the documentary before the election has been his top priority.
His choice to scarcely examine US presidential candidates could be down to eschewing the political sphere to keep a focus on his environmental work.
Before The Flood – which claims that ignoring climate change will result in food becoming scarce and economic superpowers being brought to their knees – racked up more than 2.8 million views since it debuted yesterday (31 October).
The Wolf of Wall Street star's latest offering supports his doing for The Leonardo DiCaprio Foundation, which is dedicated to the "long-term health and wellbeing of all Earth's inhabitants", according to its website.
The idea for the documentary was sparked by the 41-year-old's naming as a United Nations Messenger of Peace on Climate Change in 2014. The doc catalogues his personal journey into environmental activism, triggered by reminiscence and the childhood impact of first seeing Hieronymus Bosch's painting The Garden Of Earthly Delights.
DiCaprio claims: "My first visual memories are of this framed poster above my crib. I would stare at it every night before I went to bed," he says at the opening of the film.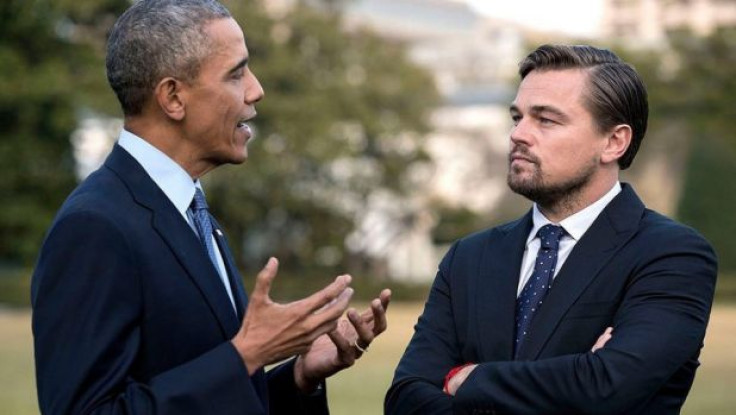 "The last panel, which is the most nightmarish one especially from a young child's perspective, is this twisted, decayed, burned landscape, a paradise that has been degraded and destroyed," he adds.
DiCaprio takes the documentary to a serious level by pursuing interviews with a range of world leaders and influencers. These include Barack Obama, Pope Francis, Ban Ki-moon and Elon Musk. With them, he discusses factors that put the Earth's sustainability at risk.
He also takes aim at global warming skeptics including Republicans Donald Trump and Ted Cruz, along with Fox News' Sean Hannity. The latter once criticised DiCaprio's support for "made-up climate change and a crisis that doesn't exist."
He is not shy about highlighting his own flaws, adding: "My footprint is probably a lot bigger than most people's. There are times when I question, what is the right thing to do? There are over a billion people out there without electricity, and they want lights, they want heat, they want the lifestyle we've had for the last hundred years.
"If we're going to solve this problem, we all have a responsibility to set an example," he adds.
The National Geographic Channel screened the documentary on Sunday which was broadcast in 171 countries in 45 languages.