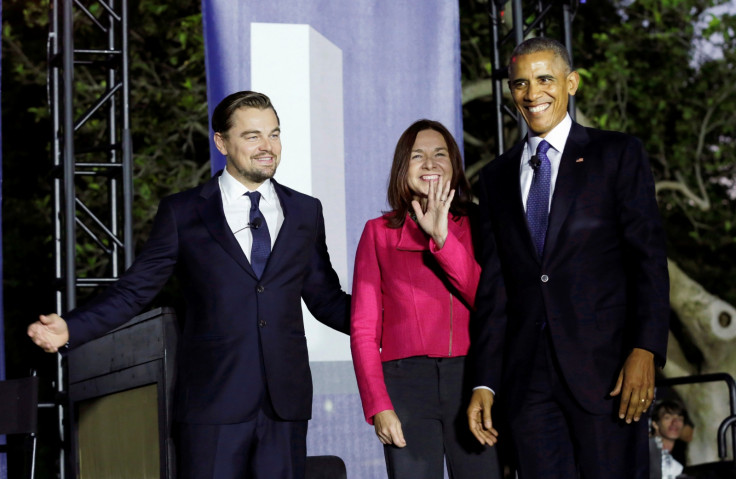 The South by South Lawn Festival (SXSL) of "ideas, art, and action" was held on the lawns of the White House on Monday 3 October during which Barack Obama met Leonardo DiCaprio and scientist Katharine Hayhoe to discuss climate change.
During the one-hour panel discussion, the president said that with India having signed the UN-sponsored deal aimed at reducing carbon emissions, the Paris climate change agreement would take effect within a few weeks.
"We're really in a race against time," he said of the attempts being made to curb the worst effects of climate change, but is hopeful that "there's still time to pass the test".
DiCaprio, a United Nations Messenger of Peace, went on to speak about his documentary Before The Flood, which premiered at the event. The film follows the actor's international campaign to raise awareness of environmental dangers related to climate change.
The Oscar-winning actor said that he and director Fisher Stevens wanted the film "to be released before this upcoming election because after first-hand experiencing the devastating impacts of climate change worldwide, we, like many of you here today, realise that urgent action must be taken". Before The Flood will air on National Geographic on 30 October.
Watch the video of the panel discussion below:
The Revenant star, who has used multiple platforms to speak on the subject, added: "We must empower leaders who not only believe in climate change but are willing to do something about it.
"The scientific consensus is in, and the argument is now over. If you do not believe in climate change, you do not believe in facts, or in science, or empirical truths, and therefore, in my humble opinion, should not be allowed to hold public office."
Hayhoe, who is a leading climate scientist, was not as optimistic about convincing people regarding climate change and that it was imperative to cut greenhouse gas emissions.
"The biggest thing I've learned is facts are not enough," she said, explaining that more scientific facts about climate change often leads to greater political polarisation. While there was "plenty of time" to take action, Hayhoe said that her "only concern as a scientist is it's not happening fast enough".