US President Barack Obama is set to meet with Leonardo DiCaprio to discuss issues related to climate change. The publicised discussion has been scheduled for 3 October and will take place at the White House inauguration of the South by South Lawn, a play on SXSW that refers to a "festival of ideas, art, and action" taking place at the president's official home.
At the event, the Potus and the Oscar-winning actor will discuss "the importance of protecting the one planet we've got for future generations". Climate scientist Dr Katharine Hayhoe will also be present for the meeting.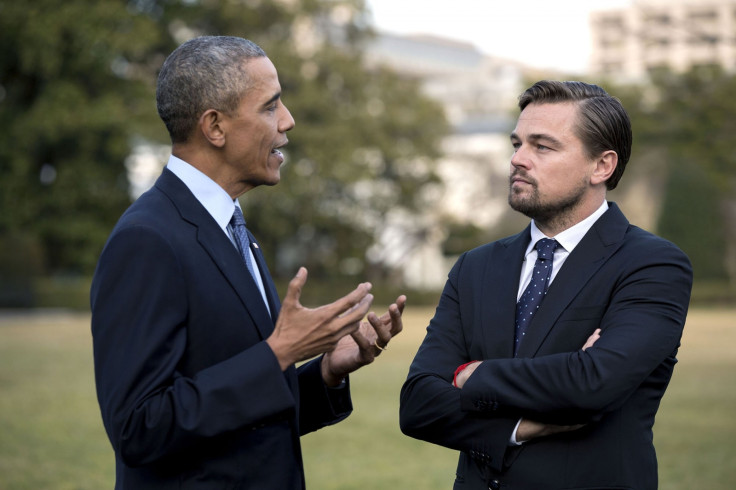 Following the talks, there will be a screening of DiCaprio's National Geographic documentary Before The Flood. The film, directed by Fisher Stevens, follows the actor's international campaign to raise awareness of the dangers of climate change as an UN Ambassador of Peace. According to the festival information, this will be the first-of-its-kind film screening on the South Lawn.
"Climate change is real. It is happening right now. It is the most urgent threat facing our entire species, and we need to work collectively together and stop procrastinating," The Revenant star said in his Oscar acceptance speech, referencing his work in regards to environmental issues.
"We need to support leaders around the world who do not speak for the big polluters or the big corporations, but who speak for all of humanity, for the indigenous people of the world, for the billions and billions of underprivileged people who will be most affected by this, for our children's children, and for those people out there whose voices have been drowned out by the politics of greed," he added.
According to the White House website, SXSL will attempt to help people to "discover their own way to make a positive difference in our country. And it's an opportunity to celebrate the inspiring work so many Americans have already accomplished".