Walking God complex Kanye West has courted controversy once again with the release of his new album The Life Of Pablo, which was unveiled on 11 February. The track Famous includes the lyrics "I feel like me and Taylor might still have sex/Why? I made that bitch famous".
West is referring to Taylor Swift and the moment during the 2009 MTV VMAs, where he took to the stage and interrupted her acceptance speech to inform the audience that Beyoncé should have won the award for best music video. He was widely criticised for his actions, with US President Barack Obama weighing in to call him a "jackass".
According to Swift's spokesperson, West asked Taylor to share the song Famous on her Twitter account. She declined and although unaware of the line "I made that bitch famous", "cautioned him about releasing a song with such a strong misogynistic message".
Is Famous misogynistic? West's reference to Taylor Swift certainly is. His behaviour at the 2009 VMAs was rude and childish. Beyoncé didn't need him to fight her corner and he had no business ruining Swift's acceptance speech. The rapper publicly apologised to Swift during the 2015 VMAs but he couldn't just leave it at that.
He has used the lyrics of Famous to try and put Taylor back in her place, suggesting the 2009 controversy "made" her career, a statement that's both sexist and untrue. Swift didn't need a man's rude interruption to set her on the path to stardom. She was already a star, already collecting an MTV award for best music video.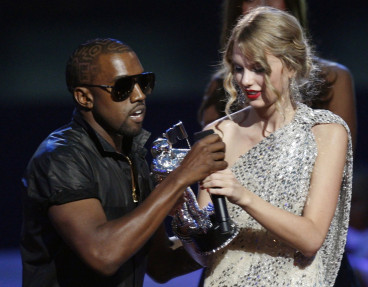 West's assertion that he "might still" have sex with Swift attempts to belittle her, needlessly turning her into another potential conquest and a sex object. Does Taylor Swift want to have sex with Yeezus? Did he ask? Does she owe him?
It's obvious that West has some very serious unresolved issues when it comes to women. He oscillates between extreme idolisation and denigration of the women in his life, worshipping his late mother Donda and his wife Kim, while dragging ex-girlfriend Amber Rose through the proverbial mud at every possible opportunity.
West has publicly admitted that he blames himself for Donda's death, which occurred following complications from plastic surgery procedure that her son had paid for. He appears to be unable to see women as whole people, rather than viewing them through the lens of the Madonna/whore dichotomy. Women must either be perfect and revered (Donda and Kim) or base and reviled (Rose).
In his recent Twitter battle with Wiz Khalifa, West insulted Rose with the barb "you let a stripper trap you" and in an interview with Power 105, he previously described needing to take "30 showers" after being with Rose, to be clean enough for his wife Kim.
Each time West insults Rose, the jibes refer to her past as a stripper and her apparent "whorishness" or uncleanliness. This public slut shaming is not only incredibly misogynistic but it's also odd since his spouse made herself and her family famous initially from a sex tape with rapper Ray J.
This week, Kanye also managed to implicitly victim-blame the women who were allegedly abused by Bill Cosby, by tweeting that Cosby is innocent. Between the Taylor Swift reference in Famous, his treatment of Rose, and the Cosby tweet, Kanye seems to have lost a fan in Orange Is The New Black star Ruby Rose.
West is an incredibly talented musician and performer, that much is undeniable. However, the product of Yeezus includes his lyrics, ego and public persona. If he continues to behave like a spoilt brat who can't bear to be wrong or challenged, stuffing his Twitter feed and song lyrics with retrograde, sexist references, I'm not buying.
As for Famous, it's merely another example of his huge, quivering jelly of an ego and his need to put a woman "back in her place" after his actions towards her placed him squarely in the wrong. West's reference to Swift in Famous is not unlike his Twitter slurs towards Rose. Both women were connected to him, one personally, the other professionally, and both have thrived and become increasingly successful without his patronage and despite his derision.
Kanye is a sensitive soul. He needs to be needed. And he really needs to sort out his problem with women.