A hospital in Australia is refusing to send a 12-month old refugee baby back to a detention centre in Nauru over concerns it is not safe for children. The child, known as Baby Asha, was brought to the Lady Cilento hospital in Brisbane in late January after suffering from burns after accidentally having boiling water spilt on her at the camp for migrants on the Pacific island.
Asha's parents, asylum seekers born in Nepal, have been allowed to stay in Australia while their daughter received treatment despite the government's tough immigration policy, which meant those seeking refuse in Australia by boat would be sent to detention camps in the Pacific island nations of Papua New Guinea and Nauru.
Since the infant's arrival, hundreds of demonstrators have held a Let Them Stay campaign outside the Brisbane hospital where the Baby Asha is being cared for, as well as 36 other baby asylum seekers born in Australia who are facing removal.
The hospital has now confirmed that they are refusing to discharge Baby Asha until they are confident a "suitable home environment is identified". A spokesperson added: "All decisions relating to a patient's treatment and discharge are made by qualified clinical staff, based on a thorough assessment of the individual, delivering the best outcome."
Their decision was supported by Queensland state's Health Minister Cameron Dick, who told AFP he "strongly supports doctors in our hospitals to make the right clinical decisions".
He added: "Doctors must expect to advocate for their patients," Doctors For Refugees co-founder Richard Kidd, who has joined the vigil outside the hospital. And the situation that we have for children who end up in hospital from Nauru is that we have... overwhelming evidence over many years now that detention does terrible harm to babies and children, particularly their mental health but also physical health."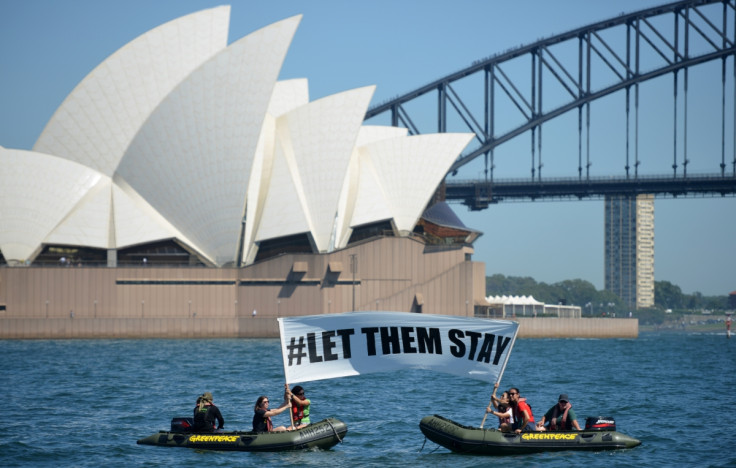 Doctors for Refugees spokesperson Richard Kidd told ABC News the the doctors and nurses involved were distressed by the situation. He said: "There's overwhelming evidence that babies and children being put into detention does them great harm," he said. "So for doctors and nurses we just can't send children from hospital into a place where we know they're going to be harmed."
Conditions at the refugee camp for migrants on the remote of Nauru have been condemned as unsafe by an Australian Senate committee. A report looking into allegations relating to conditions and circumstances at the Regional Processing Centre (RPC) in Nauru found that "the continued transfer of children to Nauru, and detention of them in the RPC, is likely to breach Australia's obligations under the Convention on the Rights of the Child." The report concluded: "RPC Nauru is neither a safe nor an appropriate environment for children and that they should no longer be held there."