Lewis Hamilton hopes Mercedes 'respect' his wishes to keep his team unchanged for 2017 season
Mercedes swapped six mechanics from Hamilton and Rosberg's team ahead of the 2016 season.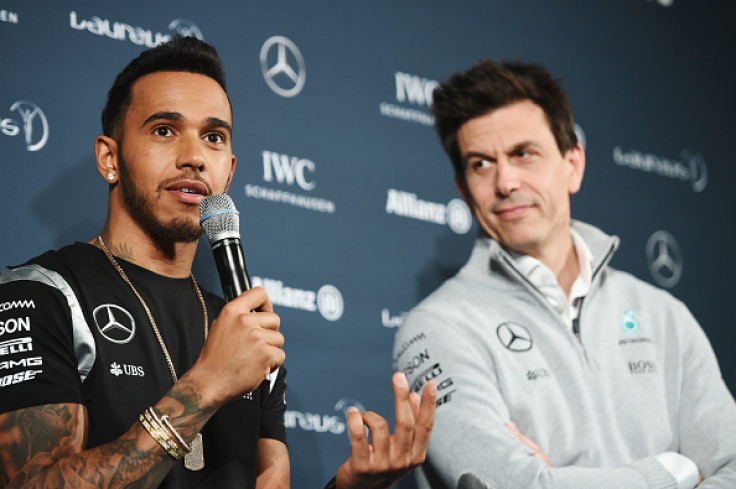 Lewis Hamilton still has some unresolved issues with Mercedes in terms of their action during the 2016 season when he relinquished his Drivers' title to former teammate Nico Rosberg.
One of the complaints ahead of the final race was the Silver Arrows teams' decision to swap mechanics between the two drivers before the start of the 2016 season. The Briton has made it clear that he does not want any personnel changes ahead of the new campaign and that he hopes the team will "respect" his decision.
"I'll speak to Toto [Wolff, Mercedes chief] about next year and say I don't want my guys being changed. I want to keep all my engineers. All my mechanics. There is not a single person who needs to leave," Hamilton said about the swap of six mechanics, as quoted by the Daily Mail.
"I am now their only world champion so hopefully they respect and appreciate that and the commitment I'll put in next year."
Hamilton also admitted that he felt disrespected by the criticism directed at him from the Mercedes team's hierarchy after his win at Abu Dhabi when he backed up the field by slowing the pace in order to help Sebastian Vettel and Max Verstappen put pressure on Rosberg for second place. Toto Wolff has since admitted they were wrong, but the three-time world champion has indicated that the issue is still not sorted with the team, and revealed that it was the only way for him to have had a chance of beating the German driver to the title.
"It was not naive of us. What he did was not what we had discussed in the morning (at a team meeting). It did not come into our minds that he would not follow what we had discussed," Wolff said about Hamilton's tactic to slow down the pace of the race to bring other drivers into the mix.
"I did not go into the race with a pre-set plan. I wanted to win obviously, to get away at the start, get into the lead. I thought I had enough pace to have pulled away into the lead, but what use would that have been to me?" the British driver explained his stance on altering strategies.
© Copyright IBTimes 2023. All rights reserved.