Lewis Hamilton may seem an unlikely pop star but the Formula One racer does have a "passion" for creating music, according to friend and r'n'b singer Angel. Hamilton, 31, debuted one of his songs during a TV interview in 2015 and promised an album would follow, but Wonderful singer Angel says music is "not a priority" for the sport star.
The British racing driver, who won the Hungarian Grand Prix on 24 July, is believed to have started recording music in 2012 with Angel helping him in the recording studio. Addressing Hamilton's hobby, Angel told IBTimes UK: "He hit me up the other day actually. He's still building and I don't think he actually feels like he's got that one [song] yet that he really wants to come out with and say, 'Here I am'. He's having fun with it. It's not a priority for him but he does have a passion for it and he's enjoying it."
In December 2015, Hamilton played a song for CBS News' 60 Minutes and described music as another outlet for him when he is not on the track. Referencing the studio, Hamilton said: "This is where I spend most of my time now. Music's been a huge passion of mine since I was really young. I started playing guitar when I was 13.
"In here, I can be me. I can be vulnerable. I can show a side of me that people don't get to see. It started as a hobby, but it's very serious and we spend a lot of time here. If I'm not training and getting ready for the race then I'm here. My work ethic is exactly the same here as it is on the race track. But it's just here I can be me."
Seeking to be an all-round musician, Hamilton is learning the piano and filmed himself performing Adele's ballad Someone Like You. The driver wrote alongside the Instagram video: "I'm teaching myself how to play in my spare time. I love how this piano sounds. One of my favourite songs to play. #Miami #Piano #Adele #Learning."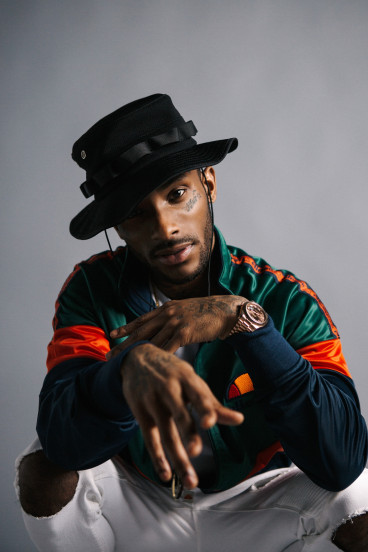 In April 2016, Hamilton was seen spending time with pop star Jess Glynne, fuelling rumours of a collaboration. The driver captioned their Instagram photo: "Hanging in the studio w/ my homie Jess Glynne."
Angel, 27, released new single Hop On after signing a deal with Motown Records in the US and working with hip-hop producer Swizz Beatz. Reflecting on the state of r'n'b, Angel says it is important to retain the genre's authenticity by maintaining a separation from hip-hop for the most part.
The singer explained: "I don't get the two things mixed up as I'm not a rapper. I used to like rapping for the fun of it but I don't say I'm a rapper. I'm a singer, I love singing but I like to take rap flows and make them melodic.
"I don't go down that corny street of saying I'm a singer and rapper and doing both of them. That's what makes r'n'b faded because everyone's doing this trap flow... Everyone's doing the same thing but for it to even feel like [r'n'b] is back, like it never left, we need to do more genuine music. Let r'n'b be r'n'b and if you're going to mix it up just make sure that it's going to bring something to it rather than take something from it."
Hop On featuring Stefflon Don is available to buy and stream now on Spotify, Apple Music and Google Play under Island Records UK.
Watch Angel's Hop On music video: