Angel is already a household name on the London music scene. In 2013, his debut album About Time reached number nine on the UK charts and he has written songs for the likes of Tinie Tempah, Cheryl Fernandez-Versini and Rihanna. However, Angel, real name Sirach Charles, is opening the door on a new chapter after signing to Motown Records in the US and forming a strong allegiance with legendary hip-hop producer Swizz Beatz.
After a string of popular singles including Wonderful, Lights On and the Fuse ODG collaboration T.I.N.A., Angel is broadening his horizons further afield than his hometown of London. Thanks to a chance meeting with Swizz Beatz, husband of r'n'b star Alicia Keys, Angel is ready to tackle the US market.
Although, Angel's first conversation with the music producer was not as strategic as many would assume – albeit slightly glamorous. The singer explained to IBTimes UK: "I met Swizz in 2012 on a jet. I was on a different mission with [Formula One racing driver] Lewis Hamilton, doing some music stuff, and I met [Beatz] on the way to New York. We kind of spoke the whole flight, he took a liking to my music. When he was in London, he hit me up and we just flexed. Not even on a music level but like brothers."
The Rude Boy singer continued: "He liked the vibe and London culture so after that he said, how can we get you to a place that you're out there. He came together with my manager Sam, the labels and said, 'Don't overlook this man, I just want to see him win'. The relationship has just been so organic because it didn't even come about because of music. It was just like two brothers feeling the vibe and music was just like the cherry on top but it actually works. It feels really good."
Needless to say, Angel, 27, and Beatz, 37, are from two completely different eras of music aside from countries. Angel had humble beginnings in Shepherd's Bush, west London while Beatz grew up in The Bronx area of New York City. Still, Swizz most importantly has an understanding of Angel's musical direction and the London music scene.
Watch Angel's Hop On music video featuring Stefflon Don:
The singer explained: "Obviously I grew up listening to Swizz and the whole Ruff Ryders team. More than it just being exciting, it's the culture that's embedded in me. That's all I know. [Swizz] is tapping into [the London scene] a little bit more, he's learning more about it.
"He understands it and that's why I feel like he's taken a liking to me. 10 years ago he wouldn't have got it and I feel like he's getting it right now. They're all tapping into it right now. The music has to speak for itself," he said.
He added of his bond with Beatz: "It's just a blessing that I've got the opportunity to be around someone like him that can show and tell me things and guide me because he's been through it all. He's still going through things now but he's been through what I'm about to go through and he's just letting me know that there are ways to swerve certain things. I love that."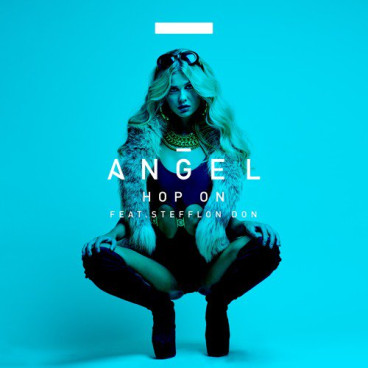 Angel's relationship with Beatz has already proved fruitful. The producer was filmed arranging a meeting between Angel and r'n'b star Chris Brown on the phone during an interview with Complex in March 2016.
While the crooners are yet to meet up in person, Angel is confident it will happen eventually.
The musician revealed: "Everything's been in progress. [Brown is] moving around, doing what he's doing and I've still got to do commit to what I'm doing with my obligations over here. It's still just a timing thing right now."
"Sometimes he'll be in LA and say he can do two days but I'll be in London. I've still got my things to do. When it's that time, it's going to be that time. I've hooked up with some amazing artists like Brandy, James Fauntleroy. Loads of sick artists that I admire and genuinely listen to. It just feels good to know that they know me," he said.
While he works hard in the studio putting new material together, fans are currently enjoying Angel's new single Hop On, a sample of Keith Sweat's 1994 classic Get Up On It. Addressing the cover, he revealed: "It's one of my favourite songs to listen to and it's just a song that I grew up listening to. I've always been in a '90s vibe."
"What I usually do if I have an idea for something is try see if it feels good in the first minute. That's what I did with this song. It felt genuinely good. It was very organic though, it wasn't like I premeditated it or anything."
Hop On featuring Stefflon Don is available to buy and stream now on Spotify, Apple Music and Google Play under Island Records UK.
Listen to Angel's Rude Boy remix featuring JME and Wretch 32: