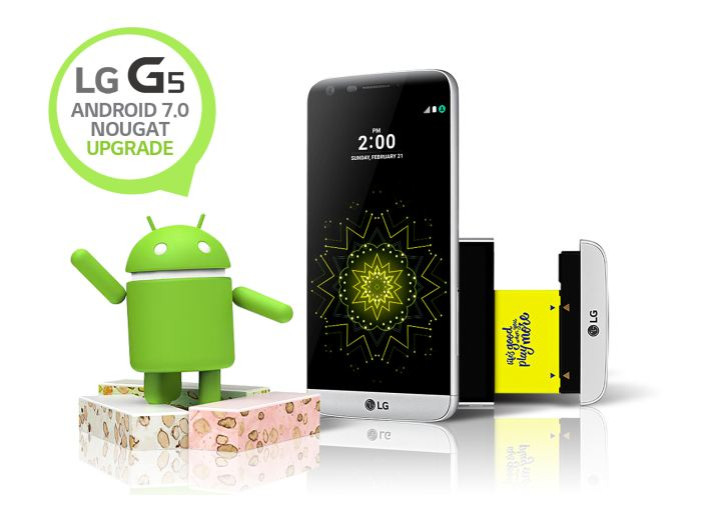 LG has begun rolling out the newest Android 7.0 Nougat update starting with its 2016 flagship handset, the G5, which was shipped with Marshmallow firmware onboard.
With the rollout, LG becomes one of the first original equipment manufacturers (OEM) to offer the Nougat upgrade after Google made the new Android version available for its Nexus series in August.
As usual, LG pushed out the update for G5 consumers in its home market of Korea first. So if you are in Korea you should receive a notification when the update arrives for your G5. The update will hit other markets such as America and Asia in the coming weeks.
Upon updating to Nougat, you should notice a range of new features designed to enhance the user experience and speed on the LG G5. This includes the In Apps feature that allows searches inside the installed apps and built-in apps. The new multi-window functionality allows users to switch between apps with just a double tap or run apps side by side. Along with these, the Nougat update brings personalised settings and smart notifications.
"At LG, we know our customers want the best, most up-to-date mobile experience," said Kim Hyung-jung, senior vice president and LG Mobile's research and development head in a statement.
"Getting software updates to our users faster than the competition is our way of demonstrating that LG is committed to supporting our products and customers to ensure they have a positive ownership experience," added Hyung-jung.
When you receive a notification about the availability of the Nougat update, you can manually download and install it. Check out the following steps:
Pull down the notification bar and tap the Settings icon
Tap General then About phone
Tap Update Center then System update
Tap Check for update
Now just follow the on-screen prompts to update the G5.