Just a week ahead of the Mobile World Congress event, LG has announced the global rollout of its eagerly anticipated curved screen smartphone - G Flex 2.
The first to offer the LG G Flex 2 will be all major carriers in the US, UK, Hong Kong, Germany, France and Singapore. Other key markets in North America, South America, Europe and Asia will commence sales in the weeks following the MWC, as confirmed by LG.
"The G Flex2 shows the world that there's still room for design innovation in today's smartphones beyond just metal frames and larger displays. We think the G Flex2 is the perfect example of form and function coming together beautifully. It's a smartphone that people simply won't be able to take their eyes off of," said Juno Cho, president and CEO of the LG Electronics Mobile Communications Company.
Pre-orders in the UK
UK high-street retailer, Carphone Warehouse has opened up pre-orders for LG's new smartphone, which will hit the store on 16 March. Potential buyers can place pre-orders on either SIM free or, 'Pay Monthly' deals.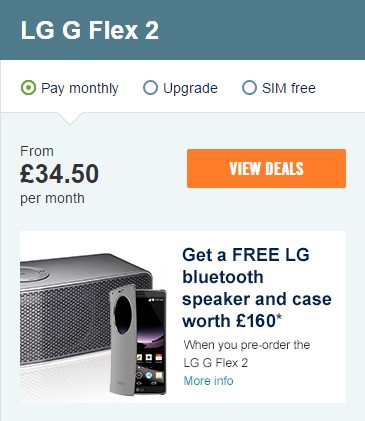 The SIM free and unlocked G Flex 2 costs £529.99. It comes with the LG Bluetooth speaker and a case worth £160 for free.
As for the Pay Monthly tariffs, the G Flex 2 is up for pre-order on contracts with Vodafone, O2, Talkmobile and EE. Like the SIM free model, all pre-orders on Pay Monthly also offer LG P7 Bluetooth speaker and the Circle case.
Head over here to know more about the tariffs offered by the carrier networks.
Other online retailers in the country have also confirmed pre-order deals. Unlocked Mobiles has priced the G Flex 2 at £469.98 (including VAT), which works out to be more economical than Carphone Warehouse's deal. The expected date of delivery according to the retailer is 23 March.
Clove UK and Expansys are also among the first retailers to have confirmed pre-orders, but are yet to reveal the pricing and availability.
Unveiled at the CES 2015 conference last month, the G Flex 2 managed to garner much acclaim for its stylish design and optimised UX features.
Its 5.5in full HD OLED display claims to deliver a sharp and vivid viewing experience from all angles. The Octa-core Snapdragon 810 is the power house for the smartphone that uses a 3000mAh battery. Check out the following links to place your pre-order.
Pre-order G Flex 2 via Carphone Warehouse
Pre-order G Flex 2 via Unlocked Mobiles
Pre-order G Flex 2 via Expansys