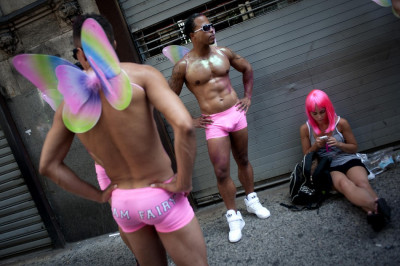 June witnessed celebrations by the gay, lesbian, transsexual and bi-sexual groups asserting their right to equality and justice. Floats, shirtless dancers and bikers walked the streets in various countries expressing their freedom. From San Francisco to Gautemala City, let us take a look at the gay parades that happened across June worldwide.
In Tel Aviv, which has become a city of gay tourism, there were huge floats. In California, t-shirts with "I love my gay brother" printed on them, stole the limelight. In Greece, bright coloured dresses flashed across the parade. The events in San Francisco were the largest in the United States. More than 200 floats paraded the streets of San Francisco as the city celebrated 42 years of gay parades. In New York, Mayor Michael Bloomberg encouraged gay movements.
"New York is a place where you can do whatever you want. The government should get out of your personal life," Bloomberg told the Daily Mail.
"It is the first time that anyone at that level of our government has recognised the legitimacy of our relationship. It was much more of a protest. We couldn't walk on 5th Avenue. Today, it's much more of a celebration," explained Mahood, 73, who attended the gay parade in New York. Mahood has not missed a single parade since 1971.
There is a reason why the gay parades happen in June - the 1969 Stonewall riots. About 25 years ago in June, Stonewall, a shady gay bar, was attacked by policemen. But instead of facing the usual harassment, the victims fought back creating a big mob at the venue. It was one of the first times that the gay community reacted to the injustice and torture done to them. Since then gay parades are being conducted across the globe in memory of the Stonewall riots.
According to the Huffington Post, a gay parade is a perfect time to educate them more fully on issues that do not get as much attention outside our community. The message of these early marches is clear: Visibility and organisation can bring attention to the inequality faced daily by the LGBT community.
Check out the best moments of the gay parades across the world: