Liberal Democrat peer Lord Strasburger has resigned from his party's group in the House of Lords. The resignation follows allegations expected to be made in a Channel 4 programme next week.
The Channel 4 Dispatches investigation to be screened on Monday is understood to show Lord Strasburger discussing how to circumvent donation disclosure rules.
According to a report in the Daily Telegraph, the TV show alleges that "a £10,000 donation was paid by the stepfather of an undercover businessman, which would be against the rules on donations".
Electoral law states that any donation over £7,500 must be declared and that the use of a proxy as a donor – to disguise the real giver of the money – is not allowed. Using a relation as a proxy donor would allow the true source of the donation to remain hidden on the official register of political donations.
Deputy Prime Minister and Lib Dem leader Nick Clegg is understood to have been filmed meeting the fake donor.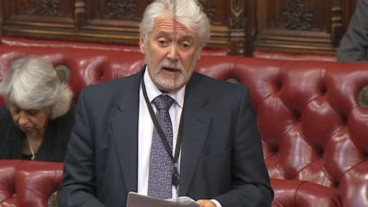 Lord Strasburger, 68, is the wealthy director of a residential letting agency in Bath. He entered the House of Lords as a life peer in 2011. He and his wife have donated almost £1m ($1.5m) to the Lib Dems since 2005.
He has denied any wrongdoing.
So far no evidence has been made available to corroborate the Daily Telegraph report and Channel 4 has not released previews of the programme.
In a statement released by the Lib Dems Lord Strasburger says: "Whatever Channel 4 may say in their Dispatches programme, I do not think I have committed any offence.
"Having said that, I believe that we should all be accountable for what we do, so I have invited the Electoral Commission to carry out an investigation into my actions. In the meantime, whilst I maintain that I have committed no offence, I have stopped fundraising for the party. Also, for the sake of the party, I have resigned the whip from the Liberal Democrat group in the House of Lords until the investigation is completed."
In a response to an allegation in the Daily Telegraph that the supposed donor – who was working undercover for Dispatches – had a meeting with the Lib Dem leader Nick Clegg, a party spokesman said: "It is common practice for senior party figures from all parties to meet with potential and current donors."
The statement goes on to say: "Dispatches has raised important questions about one particular donation, which the party is taking seriously. The party had no reason to believe that the donation was made by anyone other than the person who signed the cheque."
It is understood that a businessman posing as a potential donor approached the three main political parties about supporting them in the run-up to the general election.
There are expected to be more revelations relating to the Dispatches programme this weekend which will draw Labour and the Conservatives into the funding row.