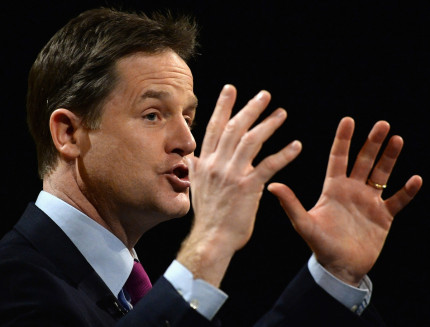 Nick Clegg's Liberal Democrats are facing possible wipeout at next month's EU elections, losing all 11 parliament seats to the Ukip surge, but with no sign the disaster will spark the leader's resignation.
The full scale of the party's expected meltdown, highlighted by senior party figures, has come as whispers about Nick Clegg's future have surfaced once again.
Some of the sniping has been as a result of Clegg declaring in a newspaper interview that he was planning to serve for a decade as deputy prime minister, seen by some as arrogant.
Meanwhile, confirming he would only help another party rule if he was brought into a second coalition, he said: "We've only just got started, and a ten-year period for us in government means we could make a majority contribution. The last thing I want to do is give up this job."
But speculation about his position after the May poll has intensified after an internal party briefing telling members to brace themselves for a "blood bath" in May.
The latest YouGov poll suggested Ukip is now on course to come first in the poll on 22 May with 31%, Labour second with 28%, Tories third on 19% and the Liberal Democrats fourth on 9% which would see them losing a number of seats.
But the reported internal briefing suggested the party could do even worse and end up with no seats in the European parliament at all. If that happens the panic at the possibility of disaster in the general election a year later would inevitably lead to questions over Clegg's future.
For a start, he would be challenged over his high-risk decision to take on Ukip's Nigel Farage in two TV debates which he then overwhelmingly lost.
However, Lib Dem insiders have dismissed the scenario and there are some suspicions that the warning is part of an expectation management exercise so that any less disastrous outcome, no matter how poor, will be seen as a victory.
That may be stretching things, but there are other reasons why Clegg will almost certainly survive a drubbing next month.
Possible leadership contenders, including party president Tim Farron, business secretary Vince Cable, whose star has waned of late, and Treasury secretary Danny Alexander may not relish the idea of leading the party into a general election, in which it is expected to do very badly.
They may believe it would be better to hang fire until after the election in the hope a humiliating result would see Clegg forced to resign.
The need for a leadership election at that stage, however, might cause major problems for any coalition deal with another party unless the succession could be handled quickly and smoothly.
On the other hand, a leadership election this May would pitch the party into a bout of internal wrangling which could last for months and, if previous contests of a similar nature are anything to go by, easily become bitter and divisive.
For the moment, then, it seems most likely Clegg will continue to lead his party into the 2015 general election, at which time all bets will be off.