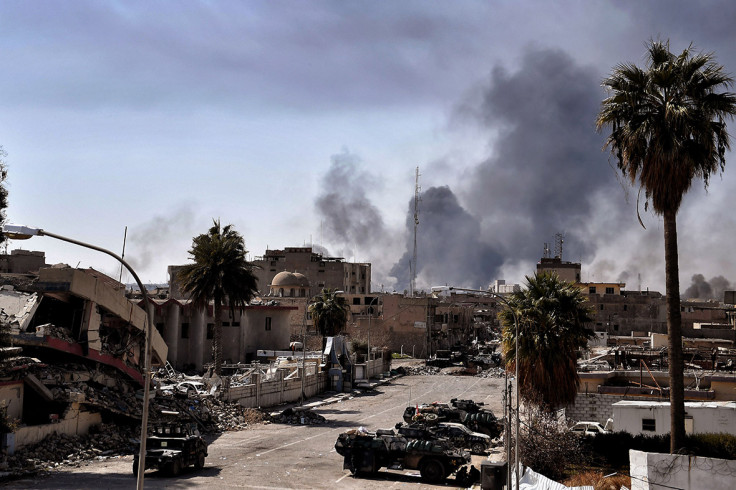 Iraqi government forces have continued their advance against Isis fighters in Mosul, reconquering key buildings in Iraq's second largest city.
An elite rapid response team recaptured the main government building, the central bank branch and the museum. Iraqi Prime Minister Haider al-Abadi visited the city on 7 March in a show of confidence and support for the troops.
Spokesperson Lieutenant Colonel Abdel Amir al-Mohammadawi told Reuters the soldiers also seized a building that was used as Isis' main court of justice, infamous for its harsh sentences, from stoning to throwing people off buildings.
Mosul's central bank and museum were looted by the jihadists when they took over the city in 2014. An Isis propaganda video showed militants deliberately destroying priceless Assyrian artefacts with sledgehammers.
The damage had been incalculable, as initial claims that the artefacts destroyed had been copies were debunked by experts. "There were about 1,000 objects in the museum. Most of those had been moved to Baghdad, what was left behind where all the heavy sculptures that could not be moved and those, according to the video, were destroyed," said Paul Collins, curator for Near East antiquities at the Ashmolean museum in Oxford, a fellow of Jesus College and Wolfson College and member of the British Institute for the Study of Iraq. "It is welcome news that the news is available to be checked but the actual state of damage we don't yet know," he told IBTimes UK.
The Iraqi state board of antiquities and heritage will now have to assess the damage. "There are a lot of questions, not just about the state of the building but whether there is anything salvageable from inside," Collins explained "The Islamic gallery, for instance, did not appear in the video and there were about 30 original antiquities in that gallery. We don't know if they have been destroyed or looted, or perhaps some may actually still be in place."
Isis aimed to destroy pre-Islamic sites and artefacts, claiming these represented idolatry against Allah. The jihadists not only destroyed the artefacts, but also dug a maze of tunnels to carry out archaeological excavations and sell artefacts in the black market to fund their terrorist operations.
Mesopotamia, the region of modern Iraq, is often described as the cradle of Western civilisation. As Collins explained, the urban way of life that we are familiar with today finds its roots in that part of the world, where cities – and writing – first emerged.
Mosul is in the centre of 1,791 registered archaeological sites, including four capitals of the Assyrian empire – Nineveh, Kalhu, Sur Sharrukin and Ashur. "As far as we can tell, a place like Mosul has been completely damaged, many of the great sites have been simply destroyed and a large number of questions have to be asked about whether it's worth restoring them. Through UNESCO a plan has been formulated for international support to making that happen," Collins said.