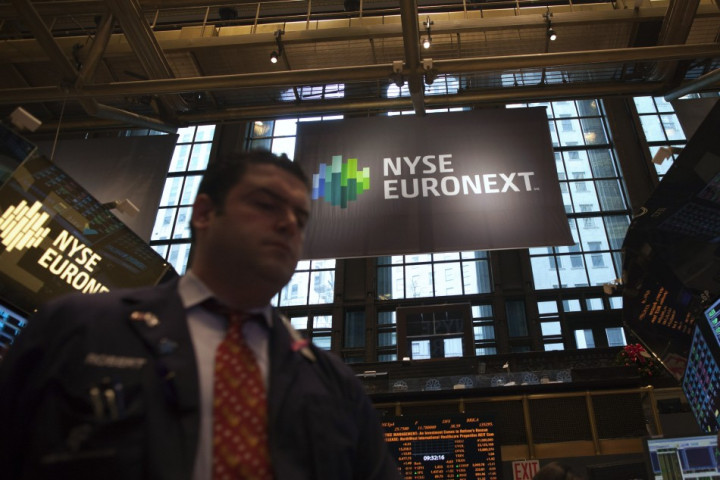 NYSE Euronext will take over the administration of Libor from the British Bankers' Association, after Britain's financial regulator stripped the trade body of its responsibility over the scandal-plagued interbank lending rate.
In a move that the Financial Conduct Authority (FCA) said will restore the integrity of the process, one of the world's largest exchanges, which is headquartered in New York, will be responsible for managing Libor by early 2014.
However London is not losing oversight of the benchmark. For the time being Libor will continue to be regulated by Britain's FCA - which assumed control of the interbank rate in April this year.
Libor rates are used as a reference for around $550tn (£370tn, €430bn) in contracts, ranging from complex derivatives to consumer mortgages and other loans. The rate is calculated by Thomson Reuters, based on daily estimates from the banks of how much it would cost to borrow money from each other.
Thomson Reuters has hitherto calculated the rate on behalf of the BBA. However, in September last year, FCA chief executive Martin Wheatley slammed the Association by calling it "careless" in its management of Libor.
"Governance of Libor has completely failed, resulting in the sort of shameful behaviour that we have seen," said Wheatley.
"This problem has been exacerbated by a lack of regulation and a comprehensive mechanism to punish those who manipulate the system.
"We can't allow the unfettered attitude that banks enjoyed previously. Much greater rigour and transparency must be introduced to the process of submission."
'Fox guarding the henhouse'

Ever since a raft of banks settled with a number of authorities over Libor manipulation, the process and management has come under scrutiny.
Barclays was the first to settle with UK and US authorities in June 2012 for £290m.
Nearly six months later, UBS agreed a record $1.5bn fine with US, UK and Swiss authorities for its role in manipulating a number of key benchmark interbank lending rates. It also admitted to one count of wire fraud relating to rigging rates in Yen.
In February 2013, RBS became the third major bank to settle with authorities for £390m for civil and criminal charges. Crucially an RBS subsidiary, RBS Securities Japan Limited, also pleaded guilty to one criminal charge of wire fraud.
While the BBA came under fierce criticism for its role in the administration of Libor, it is neither a bank that submits the data, a calculator of the rate levels nor a regulator.
NYSE Euronext said Libor underpinned the interest rate trading market and thus was vital to the exchange's own banking and brokerage customers, and this is why it is in a good position to run the administration.
However NYSE Euronext will soon be bought by US peer IntercontinentalExchange (ICE) for $8.2bn, and some regulators are concerned about the effect this may have on the bourse's new role.
"We had a 'fox guarding the henhouse' issue here, and we should learn from that," said Bart Chilton, a member of the US Commodity Futures Trading Commission (CFTC) regulator.
"I firmly believe that having a truly neutral third-party administrator would be the best alternative, and I'm not sure that an exchange is the proper choice."
Meanwhile, the European Securities and Markets Authority and the European Banking Authority are proposing to move the setting and supervision of Libor from London to Paris eventually.
The European Commission also revealed last month that it is looking to settle with the other banks that are currently under investigation for suspected Libor rigging.