The Libyan army band has played the British national anthem for UK Foreign Secretary Boris Johnson, who is on a two-day official visit in the north African country. However, their rendition differs somewhat from the original composition.
Johnson travelled to Libya to discuss solutions to the ongoing conflict in the country.
Libya descended into chaos after leader Muammar Gaddafi was toppled in 2011. The has had two parliaments, each with their own government, since 2014. The expanding anarchy in Libya has provided a breeding ground for the Isis terror group.
Johnson was also the first Western diplomat to visit Libyan commander Khalifa Haftar at his home in Benghazi. Johnson urged the commander to stick to a ceasefire announced in Paris in July, after opposing forces (UN-backed Prime Minister Fayez al-Sarraj and rival Haftar) met in France to discuss solutions to the ongoing conflict.
"Field Marshall Haftar has a role to play in the political process," Johnson said in a statement quoted by Reuters. "I urged him to adhere to the commitments he made during recent meetings in Paris, to respect a ceasefire, and to work with [U.N. envoy Ghassan] Salame in order to amend the Libyan Political Agreement.
"I have encouraged all sides to resolve their differences by dialogue, not conflict, and to respect international human rights law," Johnson said. He also pledged £9m to help tackle people trafficking and terrorism.
Libya is one of the main gateways for African migrants who try to reach Europe. Earlier in August, human rights organisations warned that thousands of migrants trying to reach Italy are raped, tortured and kept as slaves in detention centres across the north African country.
Thousands of sub-Saharan migrants who try to flee poverty and wars remain trapped in the violence-ridden country, which the report described as "a breeding ground for gangs who kidnap, enslave and extort money from migrants, and people-smugglers who force their human cargo onto unseaworthy vessels in the knowledge they may never arrive at their destination."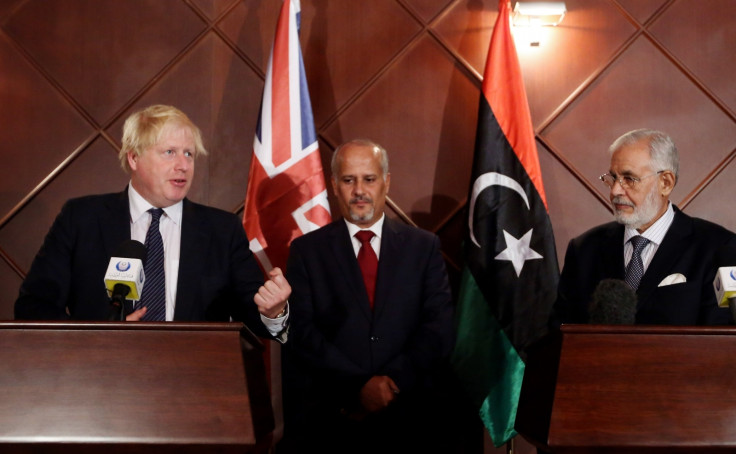 More from IBTimes UK