Libyan plane hijack: All hostages freed as hijackers surrender in Malta
Two hijackers have surrendered to police in Malta, exiting the plane waving the Libyan flag.
The hostages on board a hijacked Libyan passenger jet have been freed and their captors have surrendered after a stand-off in Malta International Airport. Malta's Prime Minister Joseph Muscat said that the final crew members had left the plane, and the hijackers surrendered, were searched and taken in custody. No injuries have been reported.
Earlier, the hijackers released 109 passengers from the Afriqiyah Airways Airbus A320, but kept some crew members on-board as hostages.
The hijackers on the plane had threatened to blow up the aircraft with a hand grenade and were demanding asylum in Malta, according to reports.
A sources on the ground at Mitiga International Airport where the Afriqiyah flight had been scheduled to land confirmed to IBTimes UK that the two hijackers were in possession of "home-made grenades" which they threatened to detonate if the flight was not diverted.
He explained that the small devices were believed to have been fashioned from the explosive gelatina which is often used in bomb attacks in Libya.
One member of Libya's House of Representatives, the county's legislature in the east, was aboard the flight and passed information to officials on the ground, the source added.
They were members of a party in Libya loyal to late dictator Muammar Ghaddafi, according to Libyan media. TV footage showed one man stepping from the plane and waving a green Ghaddafi-era Libyan flag.
The plane carrying 118 people took off from Sabha, Libya, at 11:10am local time (8:10am GMT), landing in Malta two hours and 20 minutes later after being diverted by the hijackers from its destination, the Libyan capital Tripoli.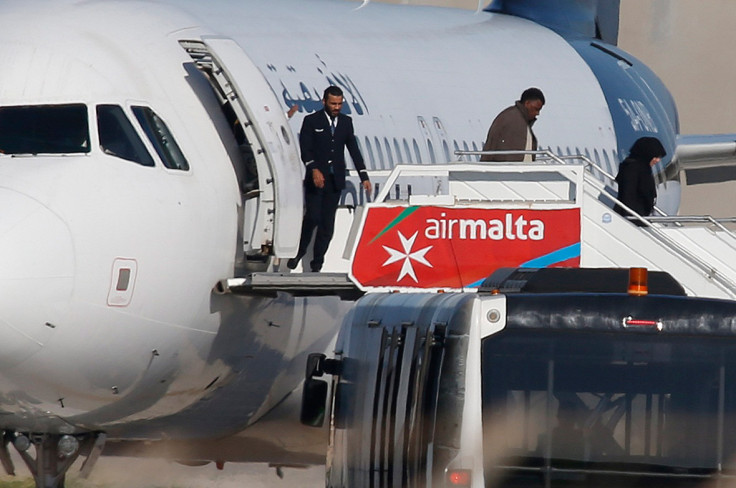 © Copyright IBTimes 2023. All rights reserved.