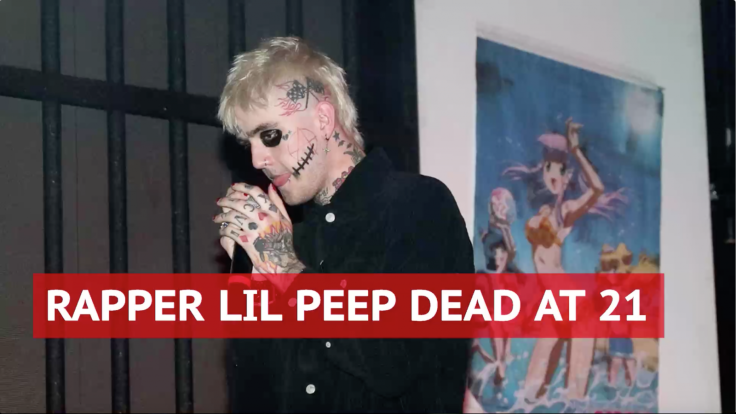 Hours before rapper Lil Peep was found dead on his tour bus, he took to social media and posted a rather ominous message. "When I die you'll love me", read the caption of a photograph shared by the 21-year-old rising star from a concert held on the day of his death.
In the days leading up to his shocking demise, the YouTube star shared a series of tragic Instagram posts with his 1.3 million followers.
Peep died of an overdose on fake Xanax laced with Fentanyl late on Wednesday (15 November) ahead of a scheduled concert in Tucson at The Rock nightclub.
During the final hours of his life, Peep also shared a photo with his followers with what appeared to be pills or tabs on his tongue, and captioned it saying, "F**k it."
A video was shared on his Instagram two days before his death where he admitted that he needed help and that he relied on pills to be happy in a chilling message.
In the clip, the rapper is seen smoking a cigarette with a friend as the caption says, "I just wanna be everybody's everything I want too much from people but then I don't want anything from them at the same time u feel me.
"I don't let people help me but I need help but not when I have my pills but that's temporary one day maybe I won't die young and I'll be happy? What is happy I always have happiness for like 10 seconds and then it's gone. I'm getting so tired of this," he concludes.
While Peep could not complete the Come Over When You're Sober tour show on Wednesday night, he took pictures with some of his fans in the hours before his death.
"Look at my beautiful fans awwwww," he wrote on his last Instagram photo.
The death of the Long Island performer, whose real name is Gustav Åhr, was announced by his manager Chase Oretega on Twitter. "I've been expecting this call for a year. Mother f*****," Oretega wrote.
Sarah Stennett, CEO of First Access Entertainment, who partnered with Lil Peep in early 2016, released a statement following his death.
She wrote, "I am shocked and heartbroken. I do not believe Peep wanted to die, this is so tragic. He had big goals and dreams for the future which he had shared with me, his team, his family and his friends."
Calling him "massively charismatic", she continued, "He was highly intelligent, hugely creative, massively charismatic, gentle and charming. He had huge ambition and his career was flourishing. I have spoken to his mother and she asked me to convey that she is very, very proud of him and everything he was able to achieve in his short life. She is truly grateful to the fans and the people who have supported and loved him."