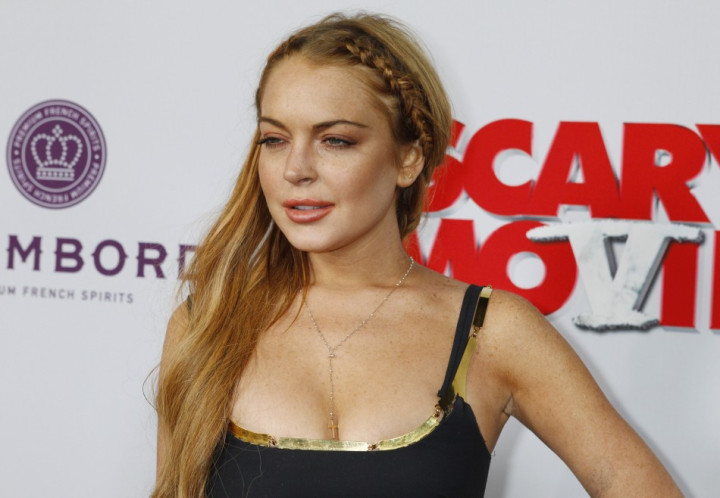 Just days before Brazilians head to the polls in what is being touted as a "geopolitical turning point" for global politics, incumbent candidate President Dilma Rousseff is narrowly ahead.
Main challenger Aécio Neves remains the underdog but he still has a fighting chance of defeating Brazil's first ever female president on Sunday.
However, should Neves fight his way to victory over the weekend, he will have to do so without the endorsement of actress Lindsay Lohan.
In what seemed a bizarre move for the star, Lohan tweeted her support for the Brazilian presidential candidate, urging voters to back Neves for the role.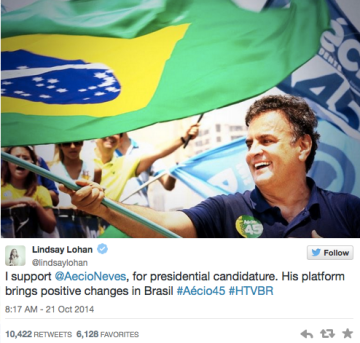 The tweet, posted on Tuesday 21 October, read: "I support @AecioNeves, for presidential candidature. His platform brings positive changes in Brasil #Aécio45 #HTVBR", followed by a photo of the contender.
The election message was retweeted or 'favourited' more than 16,000 times before it was deleted.
The unlikely endorsement quickly disappeared from Lohan's Twitter feed, and her management company has since released a statement saying that "a tweet declaring Ms Lohan's support for a Brazilian candidate", which attracted national attention in Brazil, was posted on her Twitter account "in error".
"While Ms Lohan doesn't support any of the candidates", her publicist Leslie Sloane wrote in an email to the New York Times, "she encourages Brazilians to vote on October 26."
Many immediately suspected that Lohan was not the author of the tweet, in part due to the unusual phrasing of "candidature", which the New York Times reports "sounds more like Portuguese than English", and the national spelling of the country's name.
The hashtag #HTVBR is used by Hollywood TV Brasil, which boasts of its ability to have international celebrities endorse Brazilian products and personalities on social media.
This is not the first time a celebrity has seemingly posted messages on Twitter that are paid endorsements masked as genuine statements.
In 2011 Associated Press reported that a number of famous people, including Lohan, frequently post messages on Twitter and Facebook selling or advertising products to which they have no link.