Lindsay Sandiford is suing the UK government for failing to support her appeal against the death penalty she received in Bali last week.
The 56-year-old grandmother from Yorkshire was caught smuggling £1.6 million worth of cocaine into Indonesia in May 2012 in the lining of her suitcase.
Prosecutors had recommended she be sentenced to 15 years in prison and had not advocated the death penalty.
However, the judicial panel at the Denpasar district court said they saw no reason not to sentence her to death. Sandiford now faces being executed by a firing squad.
After the sentence was passed down, the housewife was given a week to say if she would be appealing the decision - she claims a gang forced her to smuggle the drugs by threatening one of her children's safety.
Sandiford confirmed she would appeal against the sentence. However, she does not have a lawyer to fill out the complicated legal document in Indonesian.
Her family's finances were exhausted paying for the trial lawyer so she has no funds left for legal representation.
As a result, human rights charity Reprieve and solicitors Leigh Day & Co have filed a judicial review on Sandiford's behalf against the Foreign and Commonwealth Office.
They said the government's refusal to help pay for a lawyer is in breach of its obligations to her as a British Citizen.
Rosa Curling, from the Human Rights team at Leigh Day, said: "Without the government's help, Ms Sandiford faces being executed by firing squad. Mr Hague must not allow this to happen - he must immediately ensure Ms Sandiford, a British citizen, is provided with the opportunity to challenge her sentence and file an appeal."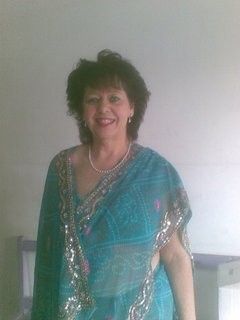 "In failing to make arrangements for an adequate lawyer to represent the Claimant's interests the Defendant is acting unlawfully, in breach of its obligations as a matter of EU law, to take all reasonable steps to ensure that she (a) does not face the death penalty, (b) is not subjected to inhumane and degrading treatment, (c) is not tortured and (d) receives a fair trial," they said.
Harriet McCulloch, investigator at Reprieve, said: "Everyone knows that capital punishment means that those without the capital get the punishment.
"Lindsay's poverty means that she has ended up sentenced to death after a manifestly unfair trial. In November the FCO spent £10,000 restuffing a stuffed snake called Albert.
"The costs of Lindsay's pro bono lawyer would amount to a fraction of that. The FCO must take immediate action and ensure that she does not lose the chance to appeal her death sentence."
Reprive and the lawyers say Sandiford was not represented by an English-speaking lawyer during court proceedings and that he had no experience of a capital trial.
She is currently relying on charity for basic provisions such as food and water, they say.
A judge must now decide whether the Foreign Office has breached its obligations and must provide Sandiford with adequate legal representation.
It had been suggested that Sandiford faces being executed in the next 24 hours but Reprieve denied this. The group said there are other stages of appeal if she misses the 12 February deadline.
Richard Stein, partner in the Human Rights team at Leigh Day said: "This judicial review will challenge the Government's refusal to fund the £2,500 in expenses it would cost for a qualified Indonesian lawyer to represent Lindsay in her appeal against execution by firing squad, which will take place on the beach in Bali if the Government do not act."