Lionel Messi Wins Eighth Ballon d'Or According To Leaked Results
Messi has been the frontrunner for the award since leading Argentina to World Cup glory in Qatar last year.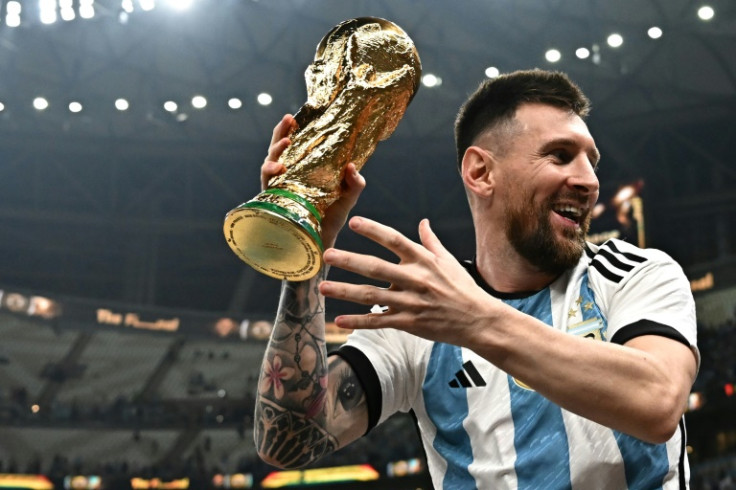 A massive yet still unconfirmed leak has revealed that Argentine superstar Lionel Messi will be lifting his record eighth Ballon d'Or trophy later this month. Winners for both the male and female categories of this year's edition of the prestigious award have come out via an undisclosed source, and everyone has been gobbling up the news.
Who are the (leaked) winners?
The 36-year-old Argentina captain has been the frontrunner for the award since winning the 2022 FIFA World Cup in Qatar with his national team side. Messi had a slow start to his international career, winning the bulk of his trophies and accolades in club football. He was part of FC Barcelona's most successful squad and spent 17 years with the Catalan giants, during which time he won his seven Ballon d'Or trophies.
He last won the award in 2021 when he was already playing for PSG, but the decision was based on performances from the previous year while he was still with Barcelona. Messi then had an underwhelming two seasons in Paris, causing him to lose out on the award last year to then-Real Madrid captain Karim Benzema.
Following World Cup success as well as a Copa America trophy, Messi was front and centre among this year's nominees. Apart from his national team achievements, Messi also joined Major League Soccer (MLS) side Inter Miami, helping them win the first trophy in the club's history (Leagues Cup).
Meanwhile, according to the leak, the women's award will be going to Spain midfielder Aitana Bonmati, who had an impressive run during the FIFA Women's World Cup 2023. Current Ballon d'Or holder Alexia Putellas suffered an ACL injury in 2022, and was out of regular competitive action for a year.
Despite Alexia's absence, her teammates both for the national team and on the club level for FC Barcelona Femeni picked up the slack, and Bonmati grabbed the opportunity more than the rest. She was a standout during both Spain's World Cup campaign as well as Barcelona's run to the 2022-23 Liga F title.
Messi could break more barriers
Overall, both "leaked" results are plausible, but many are amazed at the possibility of Messi being the first Ballon d'Or winner who plays outside of Europe. If he succeeds, he will also be winning a record eighth trophy, with closest contender Cristiano Ronaldo holding five.
Despite no longer playing in Europe's top five leagues, Messi's success on the national team level and now in the United States could be enough to seal the deal.
Messi joined Inter Miami in July while the team was languishing at the bottom of the Eastern Conference table. He was joined by fellow FC Barcelona veterans Sergio Busquets and Jordi Alba, who obviously joined the MLS side for a chance to reunite with their former captain.
Together, they managed to completely turn around the fortunes of the David Beckham-owned club. They strung together a 12-match winning streak, lifting the Leagues Cup trophy along the way.
Inter Miami match tickets and merchandise also sold out at unprecedented levels, showing the massive sporting and economic impact of Messi's arrival. Those things are also big considerations for the Ballon d'Or, where winners are voted based both on their performances on the pitch and their impact off of it.
Messi faced tough competition
A dismal two-year run with PSG left Messi completely out of contention for the award in 2022, but his national team exploits and unbelievable impact at the MLS made him a frontrunner again in 2023. However, treble-winning Manchester City striker Erling Haaland is also a strong contender for the award.
The Norwegian striker joined City last summer, and scored 52 goals in 53 games in his first season with the club. He helped Pep Guardiola's side retain their Premier League trophy as well as the FA Cup and their first UEFA Champions League title.
Meanwhile, Messi's former PSG teammate Kylian Mbappe is also a strong contender for the award. In comparison, Mbappe was a far more important player for PSG in the two seasons that Messi played with them.
As for the World Cup, Mbappe was a shinning light for losing finalists, France. He also scored a hat-trick in the World Cup final against Messi's Argentina.
In any case, the wait won't be long to find out if the leaks are accurate. The Ballon d'Or ceremony will take place in Paris on Monday, October 30
© Copyright IBTimes 2023. All rights reserved.