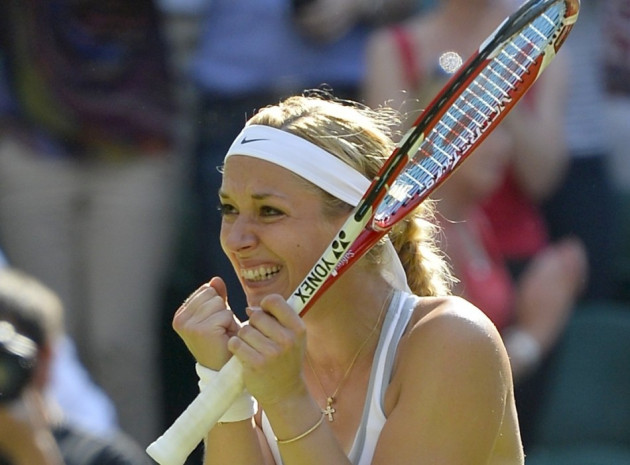 Sabine Lisicki will face Marion Bartoli in the Wimbledon ladies' singles final after an exhilarating win over Agnieszka Radwanska.
Lisicki prevailed 9-7 in the third set to become the first German women to reach a grand slam final since Steffi Graf in 1999 after knocking out last year's runner-up Radwanska.
Looking to go one better after reaching the semi-final in 2011, Lisicki was in complete control after winning the first set 6-4 and earning an early break in the second with her power game proving too much for her Polish counterpart.
But as the German's error-count began to increase, so did Radwanska's grip on the match and the former Wimbledon finalist broke Lisicki four times in the second set to take it 6-2.
Radwanska eyed a place in the final when to soared into a 3-0 lead in the deciding third, but Lisicki refused to lie-down as her formidable serve came back into play.
With the match square at 4-4 Lisicki grabbed what appeared to be a crucial break to serve for the match, but the plucky Radwanska held firm as the nerves got the better of the 23 year old.
However, four games later, Lisicki was handed a second opportunity to book her place in the final, which she duly took with a customary forehand pass.
"Unbelievable," Lisicki said. "The last few games were so, so exciting. We were fighting. It was a battle and I'm just so happy to have won it. I didn't know how it will end up, I just fought with all my heart and I believed I could still win no matter what the score was."
Meanwhile, Bartoli reached her second Wimbledon final after disposing of Belgian Kirsten Flipkens in just 65 minutes after a 6-1 6-2 victory on centre court.
The Italian raced into a 3-0 lead and secured a second break to duly serve out the match inside 27 minutes.
Another early break forced Flipkins to call for the trainer and the break in play almost sparked resurgence as she broke the No.15 seed, but Bartoli quickly regained the advantage, dropping just one more game to reach her first final at the All-England Club since 2007.
"Oh my gosh, I just really can't believe it," Bartoli said. "I played so well and I was feeling so great. Kirsten had a great run and I want to congratulate her on a fantastic Wimbledon. I think she was a bit injured today...I wanted to give her a big hug at the end. She deserves a lot of respect."
"I saw the ball like a football today. I was playing so well, hitting the ball cleanly from the start. Everything was just working so perfectly - to do that in the semi-finals of Wimbledon was amazing."
Flipkens, who couldn't even qualify for The Championships last year after suffering a blood clot in her leg, admitted she was unable to reach Bartoli's level
"I think the semis was the maximum I could get to this year," Flipkens lamented. "I mean, I had to play, I don't know, 500% I think to beat Marion today.
"She was just too good. To have this memory for the rest of my life, ten years after winning the juniors title here, is great. I mean, I would have signed for that before my career for sure."