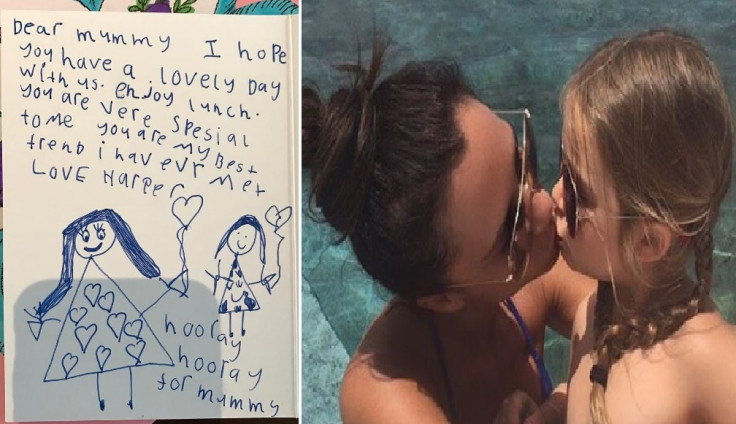 Proud Victoria Beckham has shared a clip of a singing Mother's Day card she received from her daughter Harper.
In it, five-year-old Harper can be heard singing about the former Spice Girl-turned-fashion designer being her "very own super mum".
The actual card features a school photo of the pint-sized cutie pasted onto a silver trophy that declares "No. 1 Mummy".
"Does it get any cuter?!?!" gushed 42-year-old Victoria, who also shares sons Brooklyn, 18, Romeo, 14, and Cruz, 12, with retired footballer husband David, 41.
She added: "I love my babies and feel beyond blessed x I love you so much David Beckham."
That wasn't the only card that Posh received from her only daughter.
In a previous post on the photo sharing site, she revealed that the creative darling had given her one featuring a cute drawing.
In it, Harper has drawn herself standing next to her mummy as they hold balloons.
A message inside written by Harper reads: "Dear mummy, I hope you have a lovely day with us. Enjoy lunch. You are very spesial to me. You are my best friend I have ever met. Love Harper (sic)."
It adds: "Hooray, hooray for mummy."
Of this, Victoria said: "Feeling very loved today. The sweetest card from my best friend x I love you all so much David, Brooklyn, Romeo, Cruz x."
Meanwhile, David also paid tribute to the mother of his children.
Uploading a black and white shot showing the family of six from behind, he wrote alongside it: "Happy mama's day to another amazing mummy. Someone that has raised these beautiful little ones to be the most precious, special and loved children.
"A woman that has drive, passion, intelligence and love for her children what gets any better than that ?? Thank you for giving me the most beautiful gift @victoriabeckham."
Wanting to spread the love further, he added: "To all the mums have an amazing day," and signed off with a series of heart emojis.