The Ingham County Circuit Court in Michigan rang out with cheers and applause on Wednesday, 24 January as Judge Rosemarie Aquilina issued her sentence against Larry Nassar. The disgraced former US Gymnastics team doctor was found guilty of sexually abusing the athletes under his care, a number of whom claimed to be as young as six when the assault began.
"I just signed your death warrant," Aquilina said at the end of a week-long hearing which ended with Nassar being sentenced to up to 175 years in prison. "I hope you are shaken to your core. Your victims are clearly shaken to their core. And I know there are still some who ask are you broken because you got caught."
In November 2016, Nassar confessed to molesting seven girls but 156 women and girls came forward this past week to testify against the accused and talk about their own experiences of sexual assault at the hands of the doctor.
"Let me remind you of the interests of a six-year-old girl. My favourite TV show was Clifford the Big Red Dog. I could not do a multiplication problem, and I still had not lost all my baby teeth. I think we can all agree that someone of this maturity level should not be sexually active, but I was," Kyle Stephens said in her statement.
Nassar was a family friend of her parents and had started molesting her at the age of six. When she complained to her parents, the accused managed to convince them that she was lying.
"I testified to let the world know that you are a repulsive liar. Perhaps you have figured it out by now, but little girls don't stay little forever. They grow into strong women that destroy your world," she said in court.
Rachael Denhollander, the first woman to publically accuse the 54-year-old, described him as "the most dangerous type of abuser".
"Larry is a hardened and determined sexual predator. I know this first-hand. At age 15, when I suffered from chronic back pain, Larry sexually assaulted me repeatedly under the guise of medical treatment for nearly a year. He did this with my own mother in the room, carefully and perfectly obstructing her view so she would not know what he was doing," she read out her statement.
During his own address to the court, Nassar said he could understand the "pain, trauma, and emotional destruction" that the victims were feeling.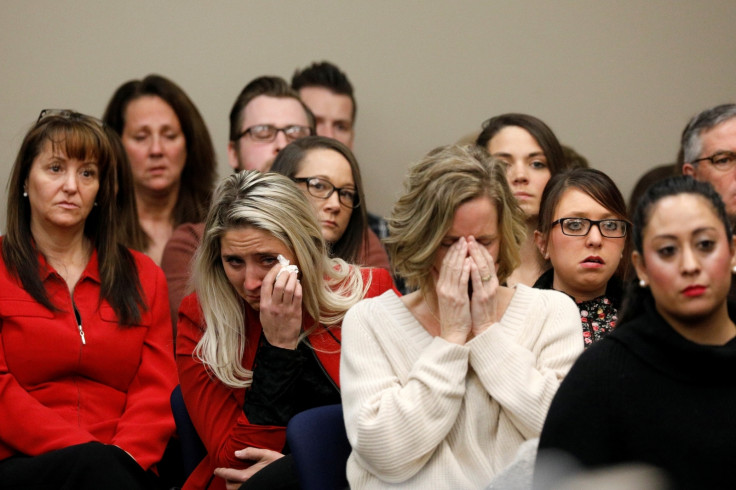 "There are no words to describe the depth and breadth of how sorry I am for what has occurred," he added. "I will carry your words with me for the rest of my days."
Aquilina dismissed his apology as insincere and read portions of a letter he had written to her in which he claimed he had been manipulated into pleading guilty.
"I was a good doctor because my treatments worked and those patients that are now speaking out were the same ones that praised and came back over and over and referred family and friends to see me," he wrote. "Hell hath no fury like a woman scorned."
Nassar is currently serving a 60-year sentence for child pornography convictions. He will face another sentencing hearing on more criminal sexual conduct charges at Eaton County Circuit Court on 31 January.