Larry Nassar case: Victim of USA Gymnastics doctor says sexual abuse drove her father to suicide
Kyle Stephens is the first of nearly 100 women scheduled to offer testimony about Nassar's abuse.
Prosecutors are calling for the disgraced physician to receive life in prison.
Larry Nassar has already been jailed for 60 years for possessing 37,000 child pornography images.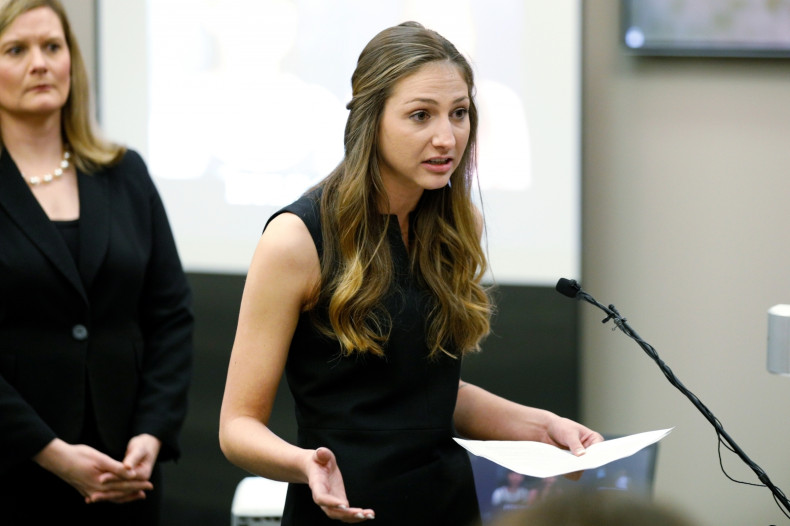 One of the victims of former Team USA Gymnastics team doctor Larry Nassar has said the sexual abuse she suffered at his hands drove her father to suicide.
Kyle Stephens told the hearing on Tuesday (16 January) that Nassar, who is being sentenced this week on seven counts of sexual assault, began molesting her when she was just six years old.
The former babysitter said Nassar repeatedly abused her until she was twelve.
"For my own sanity I forced myself to walk through the abuse step by step so I didn't forget that I was not a liar," she said.
Stephens described Nassar as "repulsive".
Criminal prosecutors are calling for the disgraced doctor to be sentenced to life in prison after he pleaded guilty to molesting dozens of teenage gymnasts while he was their doctor at major sporting competitions, including four Olympic Games.
Nassar has already been sentenced to 60 years in jail for possessing 37,000 images of child pornography.
Stephens was the first of nearly 100 women who are expected to submit impact statements during the four-day trial.
She told the court in Lansing, Michigan, that her parents did not believe her when she told them about the abuse.
"You convinced my parents that I was a liar," Stephens said.
"Little girls don't stay little forever," she added. "They grow into strong women that return to destroy your world."
Stephens said that once her father realised she was telling the truth, he took his own life.
Earlier this week, gold medallist Simone Biles said she had also endured sexual abuse by Nassar.
The team's two-time captain Aly Raisman, who came forward in November, has accused USA Gymnastics of ignoring allegations of sexual abuse and encouraging gymnasts to remain quiet.
"I was told [by USA Gymnastics] to be quiet," Raisman told ESPN. "I think that when somebody in high power is telling you to be quiet, right when they realised you are abused, I think that that is a threat.
"Especially when their first concern should be to make sure I'm OK, to get information from me, to see if my other teammates were abused, to see what else I knew, to get to the bottom of it," she added.
Raisman said on Twitter that she would not be attending the sentencing because it was "too traumatic", but that a letter she wrote will be read in court.
In a statement, USA Gymnastics said the organisation "admires and supports the young women who have courageously stepped forward to share their stories of abuse", and is "sorry that any athlete was harmed during her gymnastics career".