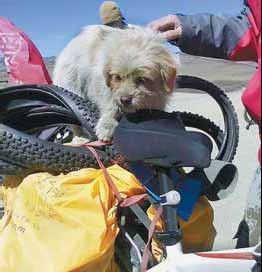 A stay dog that befriended a group of cyclists made a 1,100-mile journey across China - from Kangding, Sichuan province, to Lhasa in Tibet.
The dog, nicknamed Xiao Sa or Little Sa, joined up with the bikers on 4 May and stayed with them as they pedalled across the Qinghai-Tibet Plateau over 24 days.
Xiao Yong, a 22-year-old cyclist in the group, befriended the dog by offering her food and was surprised by the loyalty that this engendered.
"At first, we didn't consider keeping it and thought it just wanted to follow us for a while. But it showed a very strong willpower and followed us all the way here," he said.
The group took care of the little dog during the more hazardous parts of the journey, such as on a steep downhill slope in Litang, where they made a cage for it to travel in.
Remarkably, the dog was indefatigable throughout the rest of the adventure and climbed over 10 mountains, measuring more than 13,000ft in height, along the route.
The furthest it had to run in a single day was 37 miles - all uphill, said Xiao, who now plans to keep the dog as a pet.
"Xiao Sa's perseverance moved us a lot. With its encouragement, we finally reached the Potala Palace [in Lhasa, Tibet]. Now we are very excited and very moved. I am going to do whatever I need to bring it back with me as it has taken me for its master."
One slight obstacle is that dogs are banned from riding on trains in China. While Xiao takes this route, he will have to pay for Little Sa to travel by air back to his home in Wuhan, Hubei province.