13:00: European World Cup play-off draw
Portugal v Sweden, Ukraine v France, Greece v Romania, Iceland v Croatia
Ties played on 15 & 19 November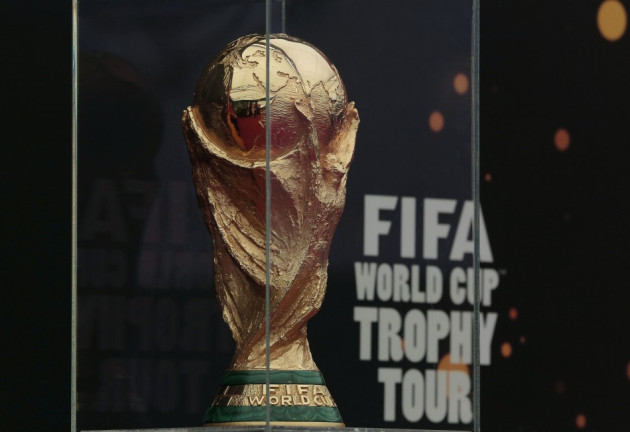 13:23: Well that's about that from Zurich. An interesting draw all round with one mamouth tie to keep us all interested. Check back to ibtimes.co.uk/sports for all the latest from round three of the Champions League this week. Until then, goodbye.
13:22: The Guardian's Ian Prior asks the question which no-one will want to answer....
So would you rather a World Cup without Zlatan or Ronaldo?
- Ian Prior (@ianprior) October 21, 2013
13:18: At the end Savic requests all teams host the games under the umbrella of fair play. He then wishes them all the 'lucks'. What a jolly nice fella.
13:16: Some immediate reaction from that draw. One of Cristiano Ronaldo and Zlatan Ibrahimovic will miss next year's World Cup as Portugual and Sweden draw each other in the play offs. The Swedes have the advantage of playing the second leg at home.
France will be delighted with the draw having secured a home tie in the second leg against Ukraine in a repeat of the group stage match at Euro 2012.
Greece and Romania will contest the third play-off tie and Iceland, who have never played in a major finals, face Croatia in a tricky tie.
13:13: Iceland v Croatia
13:12: Greece v Romania
13:12: Ukraine v France
13:11: Portugal v Sweden
13:10: Here we go....
13:09: A high level has been played 'on the pitches' during the qualifying campaign Savic says. Loads of goals and loads of games he explains. Dishwater-like dullness in Zuirch I'm afraid in a room which appears to have no natural light. Shocking.
13:07: Gordon Savic, a veteran of many draws, comes to the stage. Now here is our celebrity.A man who knows how to score' Walter tells us. You've guessed it, it's Switzerland and FC Basel legend Alexander Frei.
13:03: The managers are being introduced to the 'crowd'. This is very low key for Fifa. Oh and here's a highlights package in case you've been living in David Bentley's football boots.
13:02: Fifa are currently playing a horrible massage-esq music prior to the draw starting. We now have a promotion video highlighting Brazil's football aptitude. Oh and here we go. Walter de Gregorio is speaking from inside a cupboard.
12:57: So that's a comphrensive look at the eight teams in contention for the final four European places at next year's World Cup. We're moments away from the start at 13:00 but don't expect Fifa to be snappy; they like a draw do the world governing body. There will be plenty of highlights packages and the like to keep us entertained until the big moment.
12:52: Iceland created history in reaching the World Cup play-offs for the first time in their history. Iceland have never made an appearance in a major international competition and despite being in unchartered territory they do possess Premier League pair Gylfi Sigurdsson and Aron Gunnarsson in their ranks. A banana skin in the waiting.
12:48: Romania finished second in Group D despite losing three group games but and found Netherlands too strong through qualifying. Captained by Tottenham defender Vlad Chiriches, Romania don't have a squad full of big names, or a World Cup record of much credence, but they represent a potential wildcard should they get to Brazil.
12:45: Sweden are looking to bounce back from their non-appearance in South Africa and their failure to emerge from the group at Euro 2012. A World Cup without Zlatan Ibrahimovic would not be the same and after Erik Hamren's side ran Germany close twice in the group stage the Swedes will be well fancied to progress.
12:42: France are the highest ranked of the unseeded nations and will need the play-off route once again if they are to take their place at their 14th finals. The winners in 1998 finished behind France in their group but will be heavily fancied to reach Brazil next year. Infighting involving captain Patrice Evra aside, Didier Deschamps possesses an exciting squad. Franck Ribery is the standout name.
12:40: Ukraine finished second to England in the group phase and possess a poor major tournament record. The Euro 2012 co-hosts didn't get out of their group last year and have only played in one World Cup finals, in 2006 where they reached the quarter final. Gone are the days of Andriy Shevchenko, Yevhen Konoplyanka and Andriy Yarmolenko are the new heroes of Ukrainian football.
12:36: Croatia were powerless to prevent Belgium topping Group A and fought off competition from Serbia to reach the play-offs. Niko Kovac's side have a poor recent record at World Cup finals having failed to get past the group stage in their last two appearances while they failed to qualify in 2010. However, Luka Modric and Mario Mandzukic lead an impressive looking side who also failed at Euro 2012, failing to get out of the group.
12:30: Greece, winners of the European championship in 2004, accumulated the most points of any second place team in the group stage and only missed out on automatic qualification by virtue of goal difference. Manager Fernando Santos has adopted the guise known to many, with Greece scoring just 12 goals in qualifying. Despite having a successful campaign, they must be regarded the weakest of the seeded sides.
12:27: Portugal, of course spearheaded by Cristiano Ronaldo, finished behind Fabio Capello's Russia in the group stage and the biggest draw of the seeded sides. After ending 20 years without a World Cup appearance in Mexico in '86, Portugal finished fourth in 2006 but were knocked out by eventual winners Spain at the second round stage in 2010. Pepe will have a particular eye on Brazil next summer, having been one of a number of Portuguese internationals to be born in the country.
12:21: So we have 30 minutes or so to kill before the draw in Fifa towers in Zurich, so lets have a look at each of the teams involved.....
12:20: For those not familiar with today's draw, let me explain. The eight best placed second placed sides in the European region qualifiers will be drawn in a play-off for the four remaining European berths at next year's World Cup.
The eight sides have since been split into two pots, depending on world rankings. Portugal (14), Greece (15), Croatia (18) and Ukraine (20) were ranked higher upon the release of the latest Fifa world rankings so will avoid each other and face France (21), Sweden (25), Romania (29) or Iceland (46).
The seeded teams will also have the advantage of playing the first leg away from home first. The ties will be played on the 15 and 19 November. The draw itself, is around half an hour away.
12:11: So after 21 teams secured their passage to Brazil earlier this month, another significant step towards discovering the names of the final 11 teams is made as the European play-off draw is made in Zurich.
Stay with IBTimes UK for live coverage of the draw as Portugal, Greece, Croatia, Ukraine, France, Sweden, Romania and Iceland learn their fate.