Valdes Recommends Reina as Successor After Committing to One More Year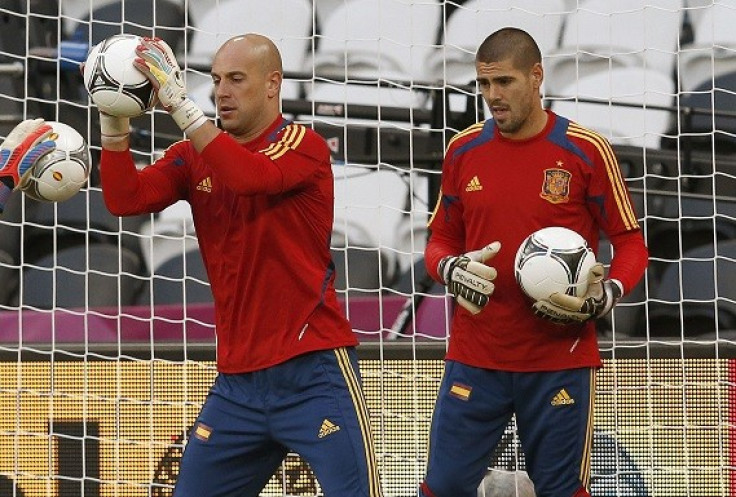 Victor Valdes has confirmed that he will see out the remainder of his contract at Barcelona and has recommended that the club sign Liverpool goalkeeper Pepe Reina as his eventual successor.
The Spain international had been expected to leave this summer after he made it clear that he would not be extending his current contract which runs out in the summer of 2014.
However, Valdes confirmed in a press conference that he would remain at Barcelona for another season, before mentioning Liverpool number one Reina as a suitable replacement.
"My apologies for these months of silence. I'm aware I owe the fans an explanation about why I won't renew my contract," stated Valdes. "Barça gave me everything, this has been my home for 20 years. But the pressure as goalkeeper here is huge.
"Psychologically I'm exhausted. I feel that my cycle at the club ends in 2014. That's what I told the club. It is not a money issue. It's an honour the club wants me to continue, but the decision is final. I think the club has enough time to look for a successor."
On Reina, he said: "Reina? He knows the club, we grew up here together and he's a close friend. He can play at any club in the world and Barça is one of them."
Reina has been linked with a possible move away from Liverpool in recent weeks and has maintained that it would be hard to turn down Barcelona. Nevertheless he has always maintained that he is happy to remain on Merseyside and help the club move forward.
The Liverpool keeper may well continue to be linked with a return to Barcelona next season as Valdes made it clear that his heart was set on leaving and sampling another league.
"I will wear and defend this shirt and this crest with honour until the last day, as I have done since the first day," added Valdes. "I see myself playing in other leagues, looking for another motivation.
"Not even in 50 lifetimes I will be able to give Barça back what the club has given me. I don't go into tomorrow's game as if it could be my last game. That's not the feeling I have now."
Barcelona have one more league game against Malaga before their summer break and will be pleased that Valdes has now commited to one more season as they look to retain their league title.
© Copyright IBTimes 2023. All rights reserved.