Two and a half years ago Brendan Rodgers waltzed into Anfield with youthful exuberance. At just 39-years-old he had landed one of the biggest jobs in the world of football, and with it a platform to preach his footballing philosophy.
Self-assured and optimistic, he packed a fistful of soundbites aimed at wooing his new found public. For some it was love at first sight.
Indeed a great many fell head over heels for those dulcet tones and were all too keen to herald a new era. Others took a little more convincing and remained ambivalent up until last season's exhilarating title charge.
A less forgiving section of Liverpool's support, one silenced but by no means dispelled last term, resented the appointment outright. Long muted, their groans of discontent are beginning to surface once more.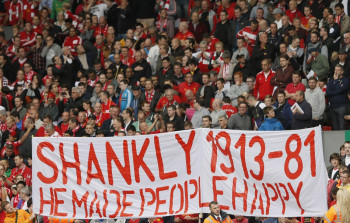 Brendan Rodgers' Appointment
Liverpool is a unique club. Granted, every football supporter will boast the same thing, but a mystique engulfed Anfield from the day Bill Shankly strode into town. His Midas touch spawned a dynasty, a winning ethos spanning two decades. That sacred baton passed from Paisley to Fagan to Dalglish.
Throughout an unprecedented era of success, a vociferous support underpinned everything - a bond only strengthened in the aftermath of the Hillsborough tragedy.
Schooled in the art of winning trophies, Liverpool's support base is an educated one not easily hoodwinked. A sense of entitlement is sometimes misplaced, but we know our stuff and demand certain standards.
Those against the appointment of Rodgers point to these very traditions. To this congregation, he was unqualified and undeserving. At 39 Rodgers had just one year's experience in the Premier League with no silverware to speak of. Moreover he was replacing the aforementioned Dalglish - forever King of the Kop.
While many lapped up talk of a philosophy and perpetual passing, seasoned veterans remained unmoved. Rodgers, in their eyes at least, was attempting to reinvent the wheel; forgetting that Liverpool had always passed and moved, save for a hellish period under Roy Hodgson.
An awkward honeymoon period ensued. Our squad struggled to come to terms with the much promoted 'death by football' philosophy. Possession seldom translated to goals, which in turn resulted in a dearth of points.
To his eternal credit, Rodgers reacted. Suddenly the rigid 4-3-3 deployed throughout a tentative beginning was ditched for a variety of systems that paid instant dividends. Such versatility spilled into last season and inspired that unexpected title push.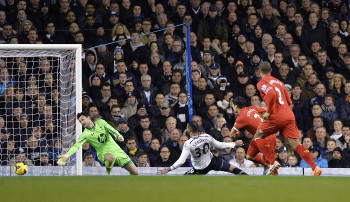 Thrilling 2013/2014 Season
Think back to that thrilling climax. No team changed up their tactics more than Liverpool. A diamond formation would suddenly evolve into a 3-5-2, a 4-2-3-1, even a 4-2-2-2 when circumstances dictated.
Rodgers sacrificed his own beliefs in favour of quick fire transitions; lightening counter-attacks that overwhelmed even the best sides. Heralded as a proactive manager, even the doom-mongers nodded with approval.
Sure problems arose - namely our kamikaze defence and the lack of an obvious shield protecting them - but the reds could outscore almost anyone and backed themselves to do so.
That all changed with the sale of Luis Suarez. Having lost the Uruguayan phenomenon, a conscious decision seems to have been made to tighten up. A bizarre thought process, it has backfired spectacularly as our rearguard remains utterly shambolic. Moreover the frugal approach has rendered attacking efforts impotent.
Rather than revert to last season's blueprint and throw caution to the wind, Rodgers remains entrenched in a losing formation. Such stubbornness has ushered in talk of a crisis and, inevitably, lured those infamous naysayers out of the woodwork.
Though I'm fully supportive of Rodgers, a degree of criticism is sadly warranted.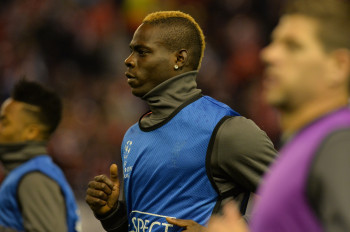 The Lonely Striker
Since Daniel Strurridge's untimely injury the reds have lined-up in a solid 4-2-3-1 formation – that one being Mario Balotelli. Immediately you have a problem as Mario is anything but a lone forward.
Much is made of his economic runs, his body language, his inconsistency - but the fact remains he is being asked to do something totally alien. A battle lost as far back as September means change is overdue.
Nevertheless, Rodgers has persisted with this tactic in spite of some quite wretched performances. A man celebrated for his versatility suddenly appears extremely stubborn, to the detriment of his side.
Saturday's pathetic showing was anything but a one-off. That lack of creativity, movement and penetration has dogged the side ever since Sturridge's lay-off and the abandonment of the diamond. And when you can no longer score your way out of trouble those long-term problems become magnified and costly.
Long-term issues
Liverpool's defence is appalling. Changes in personnel have not solved a debilitating issue evidenced from the start of Brendan's reign. The back four, whoever they may be, do not defend as a unit. Dejan Lovren was signed as the supposed leader, a front foot defender renowned for organisation. Instead he has reverted to type.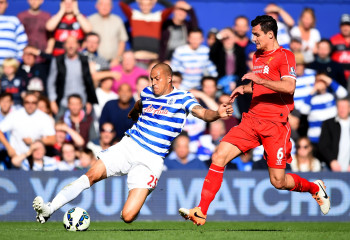 A regrettable image has swirled around social media depicting QPR's first equaliser two weeks ago. As the ball is headed back across goal and into the six yard box Lovren is seen standing in the D.
If you cry 'get up!' you need to make damn sure your teammates follow suit otherwise you look very stupid. And indeed, Lovren has looked a shadow of the player lauded at Southampton.
Much of the defensive uncertainty can be traced back to Simon Mignolet. A great shot stopper, the Belgian has little else to his game.
His kicking is wayward while his reading of crosses is frankly abysmal. Quite simply, Liverpool want to play a high line but have a keeper glued to his. On those rare occasions when Mignolet ventures into no man's land, sheer chaos ensues.
In front of that not so famous five, you have Steven Gerrard. For all his majesty the reds skipper will never be a defensive midfielder (DM), something evidenced when runners flood midfield. Critics claim Rodgers is in awe of his captain, thus loathe to even rest him. Even scarier is the fact he has never signed a DM during his nine year managerial career. That said, an archetypal DM would struggle when full backs push as high as Liverpool's.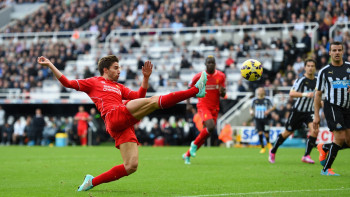 Transfer woes
Speaking of signings, the manager's summer business has - inevitably - been called into question.
The secretive transfer committee hold some sway here but those generally accepted as Rodgers signings have hardly shone – Fabio Borini, Joe Allen, Rickie Lambert, and Lovren all look like costly mistakes.
A newfound depth has also led to questionable rotation; the welcome addition of Champions League football preventing a settled side from emerging.
Back to the old ways
Finally the tempo is gone. Those blistering starts have been consigned to history, presumably in favour of the late siege - a siege that never comes. Liverpool are ponderous, predictable and poor, even when 'chasing' a game.
Such ills provide ample ammunition for the cynics. It is a sad state of affairs when certain supporters rejoice in defeat simply to say 'we told you so.' Nevertheless, that contingent will multiply unless an upturn in fortunes manifests.
With Madrid and Chelsea on the horizon there is little chance of an immediate fight back. A turnaround is needed and Rodgers would be best served evoking the tactics and spirit of last season rather than making Liverpool something they, and he, are not.
He cannot buy back Luis Suarez but he can certainly hark back to the system that enabled him to flourish. To stave off the critics and secure his long-term future, I'd say he needs to do exactly that.